Jurassic World: Dominion Dominates Fandom Wikis - The Loop
Play Sound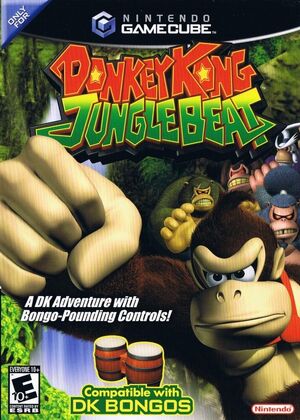 Donkey Kong Jungle Beat is a 2004 platform and score-attack game developed and published by Nintendo for the GameCube. It follows the gorilla Donkey Kong as he sets out to defeat a series of evil kings and conquer the jungle. Jungle Beat is designed for use with the DK Bongos, a bongo drum-style GameCube controller created for the Donkey Konga music game. The player controls Donkey Kong through various side-scrolling levels as he collects bananas, swings on vines, chains combos, rides animals, and defeats enemies and bosses.
The debut project of the 65-member Nintendo EAD Tokyo, Jungle Beat's development began around July 2003, after Shigeru Miyamoto suggested that Nintendo should commission a new Donkey Kong game. Development was led by director Yoshiaki Koizumi and producer Takao Shimizu, who sought to create a simple, accessible game in contrast to more complex contemporary games. Koizumi conceived a game that used the DK Bongos instead of a standard gamepad to control the player character, and applied lessons he had learned from previous projects during development. Because the tone differed from previous Donkey Kong games, the team excluded most of the franchise's existing elements and characters.
Jungle Beat was released in Japan in December 2004 and in the West in 2005 as the first major Donkey Kong game since Donkey Kong 64. It received positive reviews from critics, who complimented its use of the DK Bongos; they also praised its visuals and level design. Criticism was directed at its short length and low difficulty level. Nintendo EAD Tokyo went on to develop the critically acclaimed Super Mario Galaxy, which refined concepts that were introduced in Jungle Beat. Jungle Beat was rereleased as part of Nintendo's New Play Control! line of GameCube ports for the Wii in 2008; the port contains reworked controls and levels. This version was released as a downloadable game for the Wii U in 2016.
Summary
Sound Effects Used
Hollywoodedge, Chimpanzee Screams AT050301/Sound Ideas, CHIMPANZEE - EXCITED CALL, ANIMAL, MONKEY, APE 02

Hollywoodedge, Pig Squeal MultipleH AT047901

Sound Ideas, COMEDY, ACCENT - WARBLY SLIDE WHISTLE UP (Used when during the Turret Tusk Battle.)
Sound Ideas, ELEPHANT - SINGLE TRUMPET, ANIMAL (high pitched)
Sound Ideas, INDUSTRY, HYDRAULIC - ELECTRIC HYDRAULIC MACHINE: UP FULL, FACTORY/Sound Ideas, INDUSTRY, HYDRAULIC - ELECTRIC HYDRAULIC MACHINE BEING RAISED
Image Gallery
Audio Samples
External Links