We're Getting Mutants in the MCU - The Loop
Play Sound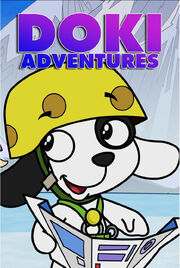 Doki is a Canadian animated children's TV series produced by Portfolio Entertainment for Latin America's Discovery Kids, based on the mascots for that channel.
Storyline
The show is about Team Doki, a team of six Funny Animal kids who are members of the Worldwide Expedition Club, an online club dedicated to travelling the world and learning things. In every episode, the team goes on an expedition to anywhere in the world to answer a question they want to know the answer to.
The members of Team Doki are:
Doki, the leader of Team Doki, who founded the team because of his love for adventure and a need to quench his curiosity.
Mundi, who happens to be a genius with technology and is the one who does everything for the good of others.
Fico, the hyperactive "wild card" of the group, always looking to do something just for fun.
Gabi, essentially the wisest team member, always trying to follow a plan while the rest of the team just wants to rush into things.
Oto, who is also experienced with technology, and is the owner, pilot and in charge of fixing the team's plane.
Anabella, essentially the definition of "cheerful young girl", with a fondness for ballet and art.
The Spanish version of the show originally aired on Discovery Kids in Latin America, while the English version originally aired on Canada's TVO Kids (in Ontario) and Knowledge Network (in British Columbia). In the U.S., the Spanish version aired on Discovery Familia (the Spanish version of Discovery Kids, launched before the latter became The Hub) while the first two seasons of the English version aired on Qubo. The special "Doki Rocks Rio!" also aired on Discovery Family to coincide with the 2016 Olympic Games, but unfortunately, they've never shown any other episodes.
Intro
Sound Effects Used
Image Gallery
Audio Samples