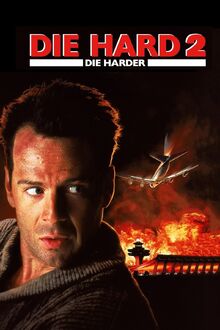 Storyline
A year after his heroics in L.A, detective John McClane (Bruce Willis) is mixed up in another terrorist plot, this time at Washington Dulles International Airport, where he is waiting for his wife (Bonnie Bedelia). That same night, South American politico and drug profiteer Ramon Esperanza (Franco Nero) is arriving in U.S. custody. McClane takes action when a treasonous ex-colonel (William Sadler) seizes control of the airport, threatening to crash every inbound flight unless Esperanza is freed.
Sound Effects Used
Sound Ideas, EXTERIOR SHOTS, AUTO WEAPONS - 9MM AUTO 01
Sound Ideas, EXTERIOR SHOTS, AUTO WEAPONS - GALIL 02
Sound Ideas, GUN FOLEY - HANDLING 12 GAUGE MOSSBERG SHOTGUN RELOADING
Sound Ideas, GUN, HANDGUN - PISTOL SHOTS WITH SILENCER, MORE WHIZZY
Sound Ideas, GUN, RIFLE - SEVERAL SHOTS, WITH RICOCHET
Hollywoodedge, 9mm Uzi Automatic Fir PE095801
Hollywoodedge, Machine Gun Silence PE1103601
Hollywoodedge, Medium Impact With Debri PE281001
Hollywoodedge, Warning Buzzer Indus PE194401
WB JUMBO JET PLANE TAKE OFF 01
Image Gallery
Audio Samples
Also See
External Links
Community content is available under
CC-BY-SA
unless otherwise noted.