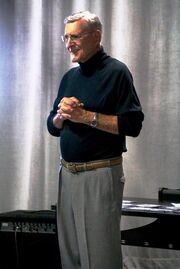 Production music is used in many types of media from television to video games and many of these familiar production cues were composed by Dick DeBenedictis (Who is best known for composing music for Perry Mason and of course for his production music that is commonly used in many forms of media especially in the 90s and 2000s). These tracks are most commonly used in television shows starting at least in the early 90s, however these tracks were not released until 2006 when they were released onto the APM website on the album "Dramatic Workshop 26 - Moodsettlers, Link and Stings" as part of the Dramatic Workshop production music series (Which many tracks from shows like
Rocko's Modern Life
and
SpongeBob SquarePants
come from).
Some of the most famous tracks are "Predators (a)", "Predators (e)" (both of which are modeled after an excerpt from the theme of the 1987 science fiction movie "Predator"), "Evil Mind (3)", "Train Ride (a)" and "Psycho Chase (b)".
The entire collection sound effects were released as part of the Symphonic Adventures Production Elements Toolkit in 1997 and was released on CD by Adventure Production Elements and Sound Ideas. 
Tracklist
All tracks can be found and heard on
APM Music
 and
Sound Ideas
.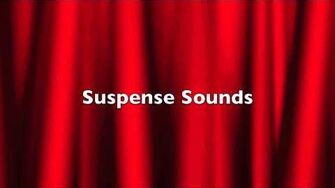 Manhattan Chase (a-f)
Manhattan Chase OL (1-4)
Predators (a-h)
Train Ride (a-d)
Train Ride OL (1-3)
Coast Road (a-b)
Alert (a-b)
Action Fanfare (a-b)
Mentally Confused (a-i)
Alarming Message (a-c)
Trap (same track as "Alarming Message (a)")
Doom Threat
Tough Chase (a-e)
Tough Chase OL (1-4)
Railway Station
Tough Action (a-c, fast version of "Railway Station")
Eerie Scene (a-b)
Final Touch (a-b)
Psychos
Uneasy
Midnight Run (a-c)
Evil Mind (1-12)
Inner Tension
Nervous Tension (1-3)
Dark Premonition (a-b)
Bronx (a-c, slower version of "Train Ride" tracks)
Drunk (1-2)
Cluster (1-5)
Very Wrong
Zoom (a-e)
The Shock (a-e)
Bad Guys (a-b)
Dark Thoughts
Dark Action (a-b)
Wild and Free (a-f)
Wild and Free OL (1-3)
Help (1-12)
Stabs
Lost Hearts (a-e)
Lost Hearts OL
Orchestral Drama Cue (a-b)
Orchestral Drama Cue OL (1-2)
Col Legno
Death Clock (a-i)
Psycho Chase (a-b)
Increase (a-b)
Film Orchestra FX (1-?)
Vertigo Gang (a-f)
Used In
TV Shows
TV Specials
Theme Parks
Universal Studios Hollywood:
Shorts
Commercials
Movies
Logos
Video Games
Promos/Outros
Bumpers/Station IDs
Other Media
iMovie (The tracks are labeled as suspense sounds. "Evil Mind 3", "Evil Mind 4" and "Evil Mind 10" are heard in normal form, "Predators (d)", "Inner Tension" and "Psycho Chase (b)" are slightly modified. Two unknown tracks are heard.)
YouTube Videos
Anime
Stuff that his Production Music that is Unused
Image Gallery
Dick De Benedictis Music/Image Gallery
Audio Samples
Community content is available under
CC-BY-SA
unless otherwise noted.