Doctor Strange in The Multiverse o Madness - The Loop
Play Sound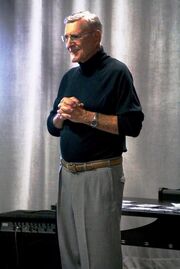 Production music is used in many types of media from television to video games and many of these familiar production cues were composed by Dick De Benedictis (who is best known for composing music for Perry Mason and of course for his production music that is commonly used in many forms of media especially in the 90s and 2000s). These tracks are most commonly used in television shows starting at least in the early 90s, with many of these originating from Benedictis' score for Columbo.
Some of the most famous tracks are "Predators (a)", "Predators (e)" (both of which are modeled after an excerpt from the theme of the 1987 science fiction movie "Predator"), "Evil Mind (3)", "Train Ride (a)" and "Psycho Chase (b)".
The entire collection sound effects were originally recorded in circa 1995, and then released as part of the Symphonic Adventures Production Elements Toolkit in 1997 and was released on CD by Adventure Production Elements and Sound Ideas. Many of these tracks were later reissued on Sonoton Music's album "Dramatic Workshop 26 - Moodsetters, Links & Stings".
Tracklist
All tracks can be found and heard on
APM Music and Sound Ideas.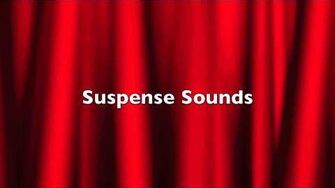 APM Track List
Manhattan Chase (a-f)
Manhattan Chase OL (1-4)
Predators (a-h)
Train Ride (a-d)
Train Ride OL (1-3)
Coast Road (a-b)
Alert (a-b)
Romance (a-m)
Action Fanfare (a-b)
Mentally Confused (a-i)
Alarming Message (a-c)
Trap (same track as "Alarming Message (a)")
Doom Threat
Tough Chase (a-e)
Tough Chase OL (1-4)
Railway Station
Tough Action (a-c, fast version of "Railway Station")
Eerie Scene (a-b)
Final Touch (a-b, c-f*)
Psychos
Auto Million
Uneasy
Midnight Run (a-c)
Evil Mind (1-12, 13-17*)
Inner Tension
Nervous Tension (1-3)
Dark Premonition (a-b)
Enough (a-e)
Bronx (a-c, slower version of "Train Ride" tracks)
Drunk (1-2)
Cluster (1-5)
Very Wrong (a-b)
Stop the Presses
Zoom (a-e)
The Shock (a-e)
Bad Guys (a-e)
Dark Thoughts
Dark Action (a-b)
Dead End (a-e)
Wild and Free (a-f)
Wild and Free OL (1-3)
Help (1-12)
Stabs
Lost Hearts (a-e)
Lost Hearts OL (1-4)
Orchestral Drama Cue (a-b)
Orchestral Drama Cue OL (1-3)
Col Legno
Death Clock (a-i, j-k*)
Knife Cue (a-b)
Psycho Chase (a-c)
Increase (a-c)
Mystic Insight
Film Orchestra FX (1-12) (same as the Following Tracks, but has Additional Ones)
Vertigo Gang (a-f)
Similar Variations
Used In
TV Shows
3 Amigonauts

The 5th Wheel

Arthur (Heard in many episodes in Season 16.)
The Amazing World of Gumball ("Action Fanfare (a)" and "Psycho Chase (b)" are heard frequently.)
Aquelarre (Film Orchestra FX ? is Heard)

Bachke Rehnaa Zara Sambhalna

The Batman (2004 TV Series) (Used in the 2nd intro.)
Beat Bugs ("Evil Mind 3" is heard in "Revolution".)

Bernard

Best Ed ("Evil Mind 10" and "Manhattan Chase" are heard frequently; "The Shock (e)" is heard in a high pitch.)

Blind Date

Brain Games

Cinematech

Columbo

(debut, originated in episodes Strange Bedfellows)

Da Boom Crew

Danny Phantom (Heard in a low pitch.)

Dama & Obrero

Edgar & Ellen (The short version of "Film Orchestra FX (1)" is heard in "Dr. Edgar & Ellen".)
The Emperor's New School ("Action Fanfare (A)" is heard in "Kuzco Fever".)
Eyewitness (UK TV series) (Season 3 only.)
The Fairly OddParents (Heard in a low pitch.)

Fear Factor

The Garfield Show ("Train Ride (D)" is heard frequently.)
Hey Arnold! ("The Shock [#55.1]" and "Nervous Tension 3" are heard once in "The Journal".)

Hijinks

Hoopla Doopla

("Evil Mind 3" is heard in "Squidie's Day Off" and "The Smell".)

Icons

El Internado (A3 Series)

Invader Zim ("Dark Action A" is heard in "Rise of the Zitboy".)

Jackass

Kenny the Shark ("Evil Mind 3" is heard once in "Dolphin For A Day", "My Old School" and "Who Framed Kenny The Shark?".)

Key & Peele

King of the Hill ("Evil Mind 3" is heard once in "And They Call it Bobby Love" and "The Shock [#55.1]" is heard once in "Now Who's the Dummy?".)

La CQ

The Looney Tunes Show (Heard in the Road Runner and Wile E. Coyote Segments.)
The Loud House ("Psycho Chase (B)", "Evil Mind 8", and "The Shock [#54.1]" are heard frequently.)
Mickey Mouse ("Evil Mind 3" is heard frequently.)

Missing

Motown Magic ("Evil Mind 3" is heard once in "(Love Is Like a) Heatwave" and "War".)

The Mummy: The Animated Series

Paranormal Home Inspectors

Phineas and Ferb ("Psycho Chase (B)" is heard frequently when Doof traps an agent; "Increase (B)" and "The Shock [#55.1]" is also heard; and "Evil Mind 3" are shortly heard; and "Evil Mind 11" is heard frequently too.)

Popular Mechanics for Kids

Project G.e.e.K.e.R.

The Simpsons (Death Clock (I) is heard slowly during the Springfield Cemetery scenes; and "Matlock Theme" was heard briefly.)
Spider Riders (Sampled in the international dub.)
Space Goofs (Dark Action (A), Eerie Scene (A), Evil Mind 3, and Nervious Tension 1-2 are heard once.)
SpongeBob SquarePants ("Evil Mind 3", "Death Clock (E)", and "Increase (B)" are heard frequently.)
Star vs. the Forces of Evil ("Evil Mind 3" is heard frequently.)
Swampy's Underground Adventure ("Evil Mind 3" is heard once in a higher pitch in "Change is Good".)
Static Shock (Used in the intro.)

Stroker & Hoop

The Suite Life of Zack and Cody ("Evil Mind 3" is heard twice in "Arwinstein".)

Taffy

(sampled)
Teen Titans Go! ("Psycho Chase (B)" (1+ in high speed) was heard often.)
Thomas & Friends ("Evil Mind 3" is heard once in "James the Super Engine".)

Tim & Eric Awesome Show! Great Job!

Tom and Jerry Tales (Mostly Sampled in Season 1)

The Tom Green Show

Tosh.0

Untamed and Uncut

Verdades Ocultas

(2019-present)

Villa Dulce

Watch What Happens: Live

(Heard in "Toaster-Geist".)

Whacked Out Sports

The Wonderful World of Mickey Mouse ("Evil Mind 3" is heard frequently.)

Wong Fei Hung - Master of Kung Fu
TV Specials
A Fairly Odd Christmas (2012) ("Evil Mind 3" is heard once.)

Giant Monsters (2004)

Night Visitors (2000)

(a documentary special that aired on TLC and The Travel Channel during the 90s.)
The 100 Scariest Movie Moments (2004)
Theme Parks
Universal Studios Hollywood:
Shorts
DMC Toho Cinema Policy Trailer

Marvel Super Heroes: What The--?!

Scooby-Doo Is Over There
Commercials
Armonyl

("Evil Mind 3" and "Psycho Chase (b)" are heard.)
BCI Bath & Showers ("Evil Mind 3" is heard frequently.)

Capital One

Chocman (2007)

("Evil Mind 3" is heard.)

Cocoa Puffs

(Either 2005 or 2006)

DirecTV Argentina - Error 771 (2016)

("Evil Mind 3" is heard twice.)

Fruit by the Foot - Shower (2010)

("Evil Mind 3" is heard.)

Fruit Gushers - Magic Gushers (1998)

Got Milk? - Marvel Superheroes

(Either 2000 or 2001) ("Action Fanfare (A)" and the short version of "Film Orchestra FX (1)" are heard during a scene of the commercial.)

Honey Nut Cheerios - Geyser (2005)

JCPenny - Back-to-School Zombies (2007)

Kirby Mass Attack Commercial (2011)
Kraft Macaroni & Cheese Commercial - Channel Surfing (1999) ("Action Fanfare (a)" is heard in the Godzilla Scene.)

Simon Malls

Sims Snowboarding

Sour Punch Straws - Punch School (2008)

("Evil Mind 3" is heard.)

Subway - Dinner Theatre (2006)
Movies
Balto II: Wolf Quest (2002) ("Evil Mind 3" is heard once in a 2+ pitch)

Dragon Fighter (2003)

The Eden Formula (2006)

Ex$pendable (2010) ("Psycho Chases (a-b)" are both heard once.)

First Strike (1996)

God With Us (2017)

Jack Frost 2: Revenge of the Mutant Killer Snowman (2000)

Romeo & Juliet: Sealed with a Kiss (2005)

South Park: Imaginationland (2007)
Logos
Alliance Atlantis (1999-2005) (Logos)

(The short version of "Film Orchestra FX (1)" is sampled in the 1999-2005 logo, and the climax sounds more clear in the short version.)

CJ Entertainment

Hoyt's General Cinema

Mondo Home Entertainment (The short version of "Film Orchestra FX (1)" is sampled near the end of the logo.)

Nine Network

Production I.G. / ING (1997)

Ramu Enterprises (The short version of "Film Orchestra FX (1)" is heard near the end of the 2003-04 logo.)
Red Chillies Entertainment (The short version of "Film Orchestra FX (1)" is heard throughout the company's 2007-13 logo. The first part of the music is repeated twice, the first time in regular pitch and the second time in triple high pitch. The ending plays in regular pitch.)

Star Cinema (2000-2010, 2013-present)

Tyne Tees Television (The extended, medium length, and short versions of "Film Orchestra FX (1)" are heard throughout the 1996-98

Channel 3 North East

and 1998-99 TTTV logos.)
Yoshiart Network Movies (2020-2021)
Video Games
Army Men: Sarge's Heroes 2

The Bouncer

(Heard in some cutscenes.)

Breath of Fire IV

("Vertigo Gang (a-f)" and "Bad Guys (a)" are been used in the track of Dragon's Blood.)

Cartoon Network: Punch Time Explosion

Capcom vs. SNK 2

(Heard in "Demo Ver. 1, "Demo Ver. 2" and "Ending Ver. 2".)
Cyberchase The Quest 3 ("Evil Mind 3" Is Heard once in The Story)
Dead or Alive 4 ("Evil Mind 3" is sampled in a theme of "Alpha-152".)

Delta Force: Urban Warfare

("Manhattan Chase (a)" and "Wild and Free (b)", among others, were used in the soundtrack.)

Dragon Ball Xenoverse

("Increase (b)" used near the end of E3 2014 trailer.)
Burnout 3: Takedown ("Evil Mind 1" and "Doom Threat" used as a sample while Impact Time is activated.)

Burnout CRASH!

(An shortened version of "Evil Mind 3" is used when De-Buff or Super Feature is used.)
Castle Totenkopf: SDL Edition ("Predators" used when you die.)

Command & Conquer: Red Alert 2

("Predators (f)" is sampled in "Grinder".)

Die Hard Arcade

Empire Earth

Emergency 2: The Ultimate Fight for Life

Evolution Snowboarding

Fantastic Four (2005) (Video Game)

("Tough Action (a)" is heard once.)

Final Fantasy X-2

Grand Theft Auto (The short version of "Film Orchestra FX (1)" is heard at the 6:25 mark of the Head Radio station.)

Gun Metal

Heavy Rain

Jak II (Heard in some cutscenes.)
Jak 3 (Heard in some cutscenes.)

Jurassic Park: Trespasser

Kid Icarus: Uprising (Sampled in the Underground.)
The Legend of Zelda: Skyward Sword (Heard once in a cutscene.)

Mata Nui Online Game

MediEvil

("Wild and Free (b)" used in the final boss fight theme.)

Metroid Prime

Nocturne

Police Trainer 2

Rayman 3: Hoodlum Havoc (Heard low pitched.)
Rayman: Raving Rabbids ("The iMovie Suspense Pack" are Heard.)

Resident Evil 2

("Eerie Scene (a)" is used in Claire Redfield's intro cinematic.)
Resident Evil 4 (slightly sampled in the theme of El Lago.)

Scaler

Severance: Blade of Darkness

The Simpsons Arcade Game ("Psycho Chase (b)" used when the players encountered the zombies.)

Spider-Man 2: Enter Electro

(Heard in some cutscenes.)

Spyro the Dragon 2: Gateway to Glimmer

Super Mario Maker (Re-Arranged for the Doom Sound.)
Team Fortress Classic (the final note of "Film Orchestra FX (1)" is heard when a player captures the flag.) (Might Delete soon)
Tekken 3 ("Doom Threat", "Eerie Scene (B)", "Psycho Chases (A/B)", and "Nervous Tensions (1, 3)" are Heard in Jin Kazama's ending cutscene in the PS1 version.)

Time Crisis 1

(Heard in the Special Mode, part of PS1 version.)
Tony Hawk's Pro Skater 3 (Video Game) ("Evil Mind 1" used when Demoness is selected.)
Tony Hawk's Underground 2 (Video Game) ("Evil Mind 3" used in the first cutscene.)

Vib Ribbon

(heard before the Title Screen)

Vigilance

Who Wants to Beat Up A Millionaire

X2: Wolverine's Revenge
Trailers
The Busy Bee Dogs: The 3 Little Pigs (2008) (Trailers)

(The iMovie version of "Predators (d)" is heard once and "Evil Mind 3" is heard twice.)

Jak II (Trailers)
Promos/Outros
31 Minutos: La Película (Some of the Samples are Heard in the Brazilian Version)

Million Dollar Password (2008)

(Manhattan Chase is heard)

Movies! - Popcorn Movies Outro

("Evil Mind 3" is heard)

The Talk - Under The Dome (2014)

(Ugh... What Audio is Heard?)

The X-Files - The Lost Art of Forehead Sweat (2018)

("Evil Mind 3" is heard.)
Bumpers/Station IDs
Fox Movie Channel (2000-2007 version)

103.5 BOB FM

Sky Movies (1998)

Sky News Sunrise (1997) (The short version of "Film Orchestra FX (1)" is heard in a low pitch.)

KVDA Telemundo 60 San Antonio

("Evil Mind 3" was Played in One Telecast News.)

Radio Aconcagua 91.7 FM

("Evil Mind 3" is heard)
Videos
Canticuentos: La Alegria de Cantar (2005) (Videos)
Other Media
Endless Alphabet ("Evil Mind 3" is heard in "ITCHY")
Goofy Wants His Money (TikTok)
iMovie ("Evil Mind 3", "Evil Mind 4" and "Evil Mind 10", as well as modified versions of "Predators (d)", "Inner Tension", "Alert (b)" and "Psycho Chase (c)" are labeled as mystery and suspense sounds.)

Instagram

Red Skelton Show (2006 Quality Television DVD Release) (iMovie and Garageband were both responsible to compose the music.)
YouTube Videos
Action Replay Review (adrianmarti)

("Evil Mind 3" is heard.)

Alonzo Lerone Videos

Angry Birds ("Evil Mind 3" is heard in the Cinematic Trailer.)

AmtrakGuy365

The Bedfellows ("Evil Mind 3" is Heard Frequently)
Campus School Videos (Heard once in "Sophie, Meredith, and Amarie".)
CartoonMania
CartoonMania: The Movie (2019)
ClaireRabbit1 🥕 ("Evil Mind 3" is heard once in "My reaction that Youtube keeps recommending me elephant videos".)

Cool School (YouTube Video)

Cosmic Kids Yoga

Crazy Hand in a Nutshell (JPiZZle)

Donkey Kong - The BLU Heist

("Evil Mind 3" is heard once.)
Explosm Entertainment (Since 2009)
emo boy (meme) (tvokids) (15+ or 16+) ("Evil Mind 10" is heard in beginning.)

Ed's Retro Geek Out

FatherAndSonTalk

FavijTV ("Evil Mind 3" is heard once in "Goat Simulator - LA CAPRA SATANICA OBESA! - #2".)

FGTeeV

Fred

GeoScarton Videos

Horror Madagascar (The iMovie Suspense and Mystery Pack is heard.)
Ironmouse ("Evil Mind 10")

Johnny Johnny Yes Papa

Kevin LaSean

League of Legends

(Evil Mind 10 is used in one promo.)

Mad Mad Mario

("Evil Mind 3" is heard once in Episode 4.)

MajorEngineStudios

MaryannKitty11: The Series ("Evil Mind 3" (Original Version) and "Predators (d)" (iMovie Version) are heard frequently.)
Mike's Toontown ("Evil Mind 3" Is heard in "Once Upon a Spongebob", "Miss Ocean Shores", "Babysitter Blues", "Best Bro" and "Drive Thru".)
MMadness (Alert (b) is heard twice in "Youmu & Sakuya Battle for Pancakes".)
Mommyof3xo Series (Heard in "WORST SQUISHY PACKAGE EVER! I WAS SCAMMED! (NOT A SKIT!)".)

MrBeast

MrEngine88

("Evil Mind 3" is heard once in the end of "TrackMaster Narrow Gauge Races: Episode 19 - Duke vs Bertram".)

PewDiePie Videos

(2011-2016, 2019-)

pokapoka slime

Ramahfool

The Ruby Tuesday

SMG4 Videos ("Psycho Chase (c) (iMovie Version)" is Heard Frequently)

Snootz BB2.0 Videos

Steamed Hams but I Added some iMovie Music and Sound Effects
Straight Arrow Productions (Heard in "Thomas and the Killer Cars".)

Taylor Was Here Again

Tom Tank Productions

ToonCee

("Evil Mind 3" is heard once in "I SNITCHED ON MY DAD FOR DOING A NO NO!".)

Tushar Kd

("Evil Mind 10" is heard twice in "Super Mario Buying PS5".)
Toy Story YTPs (Heard once in "You Are a Sad, Strange Little Man".)

The Treehouse of Horror YTP Collab

WhitneyGoLucky ("Evil Mind 3" (Original Version) and "Predators (d)" (iMovie Version) are heard frequently.)

Wilhelm Scream Compilation (Atomic Bagpipe Pictures)

(Heard in the beginning.)

YTP Tennis Round 8 - Mamon Fighter vs. Mario90007 (Mamon Fighter The 2nd Channel)
Anime
Black Clover

DragonBall Z Abridged (TeamFourStar) (Heard in season 01 and "Bardock: The Father of Goku".)

Eureka Seven

(Many tracks are sampled in the soundtrack, including "Uncontrolled Self" and "type the END".)
Fairy Tail ("Evil Mind 3" is Used Frequently)
The Future Diary (Several pieces are sampled in the anime's soundtrack, such as "Evil Mind 3", an unidentified horror stinger, and a low pitched version of "Death Clock E".)
Hetalia: Axis Powers ("Evil Mind 3" is heard once in "Episode 2 and Episode 3".)

JJBATAS Parody (AntfishTAS)

JoJo's Bizarre Adventure ("Increase A & B", Psycho Chase B, and "Wild and Free B" are Only Heard in "Battle Tendency".)

Kaiji

(Many tracks are sampled in the soundtrack, such as Dai zanazawa 1.)
Kirby: Right Back at Ya! (occasionally sampled in the 4Kids version's soundtrack.)
My Hero Academia (Heard in Season 1 Episode 5 & Season 2 Episode 12., cry about it)
One Piece (occasionally sampled in the 4Kids version's soundtrack, recycled from Previous Shows. / Sampled in the Thriller Bark and Marineford Arcs)

Re: Zero

(Heard in Episode 1b.)
Sonic X (occasionally sampled in the 4Kids version's soundtrack.)

T.EXE's MegaMan Abridged Warrior (TEAMEXE200X)

Teasing Master Takagi-san (unidentified horror stinger)
Yu-Gi-Oh! Duel Monsters (International dub)
Image Gallery
Dick De Benedictis Music/Image Gallery
Audio Samples