Jurassic World: Dominion Dominates Fandom Wikis - The Loop
Play Sound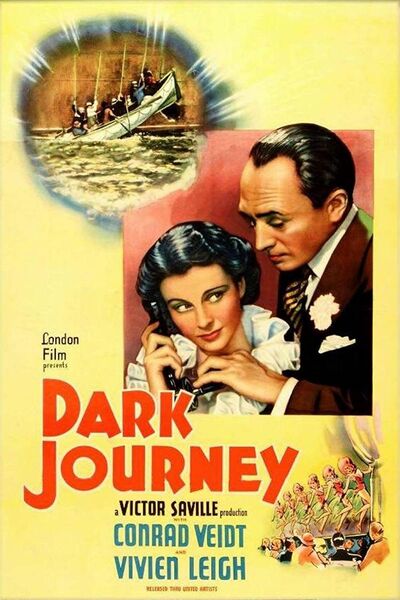 Dark Journey is a 1937 British spy film directed by Victor Saville and starring Conrad Veidt and Vivien Leigh. Written by Lajos Bíró and Arthur Wimperis, the film is about two secret agents on opposite sides during World War I who meet and fall in love in neutral Stockholm.
It was shot at Denham Studios, with sets designed by the art director Andrej Andrejew assisted by Ferdinand Bellan. The film's costumes were by René Hubert.
Storyline
Madeline Goddard is a smart young woman who owns a fashionable dress shop in neutral Sweden during World War One. Though she is grateful to avoid the fighting, the courageous and stunningly pretty Madeline feels she should be doing more for her native France. She volunteers to work as an intelligence agent, smuggling maps and other documents within the fashionable garments she ships to wealthy customers in London. Madeline's activities are so successful that British intelligence soon comes to rely on her as their main pipeline for information. At about this time, a British official in Sweden asks her to cultivate the friendship of Baron Karl Von Marwitz, a tall, distinguished-looking German officer who is in charge of counter-espionage activities at the German embassy. Unknown to Madeline, the baron has been sent to Sweden for the express purpose of discovering and eliminating the top British spy who has been smuggling out German war plans. When Madeline and Karl meet, each recognizes the other as a deadly foe. But a smoldering attraction seems to grow each time they see each other. Madeline is dazed by her conflicting feelings and attempts to run away; however Von Marwitz is able to board her ship on the high seas and capture her as a spy. Soon afterwards, his own ship is torpedoed by a British destroyer sent to rescue Madeline. The mortally wounded Baron Von Marwitz dies in her arms, confessing his love. Madeline is hailed as a hero but turns to look out to sea, shedding tears over her gallant German lover.
Sound Effects Used
Image Gallery
Audio Samples