Jurassic World: Dominion Dominates Fandom Wikis - The Loop
Play Sound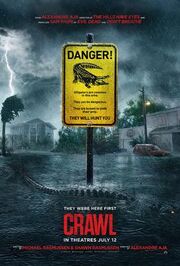 Crawl is a 2019 American natural horror-drama film that was directed by Alexandre Aja, and produced by Sam Raimi. The story was taken from a screenplay written by brothers Michael and Shawn Rasmussen. It was released on July 12th, 2019, and was distributed by Paramount Pictures.
Storyline
When a massive hurricane hits her Florida town, young Haley ignores the evacuation orders to search for her missing father, Dave. After finding him gravely injured in their family home, the two of them become trapped by the rapidly encroaching floodwaters. With the storm strengthening, Haley and Dave discover an even greater threat than the rising water level -- a relentless attack from a pack of gigantic alligators.
Sound Effects Used
This film mostly uses sound effects from the Foley Sound Library, and The Premiere Edition Volume 1 library. Along with very few Sound Ideas sound effects, with only one being from The General Series 6000 Sound Effects Library, and one being from the Rural Sound Effects by Digiffects - Series C library.
Hollywoodedge, Axe Chops Wood Single FS021801

Hollywoodedge, Blood Gush Multiple FS044301

(Slightly low volume; heard twice when Pete & Wayne are killed by the alliagtors.)
Hollywoodedge, Body Falls Mud Heavy FS045002 (Whoosh only; heard once in an extremely low volume.) (?)
Hollywoodedge, Body Falls Water Spla PE106801 (Left channel/audio track only; heard once when Haley dives into the water to swim to the motorboat that was left behind at the gas station that Marv and the others were at.)
Hollywoodedge, Bone Breaks Blood Com FS044104 (Very slight higher pitch; heard once, when Marv's corpse is thrown up against a window at the gas station by an alligator.)
Hollywoodedge, Car Alarm Rapid Highp PE074901 (Used for the alarm, and horn on Haley's Jeep Cherokee.)
Hollywoodedge, Heavy Face Punch FS040303 (Heard once when an alligator throws Haley at the wall, as it thrashes her around.)

Hollywoodedge, Impact Bone Crunch FS043901

Hollywoodedge, Metal Creaks StressG PE355803 (Used for the creaking and groaning of the pipes that are inside the house.)
Hollywoodedge, Metal Hits Metal Pipe FS010602 (Heard multiple times, for when Dave bangs on the pipes with a shovel, and a brick.)
Hollywoodedge, Object Being Squashe PE105301 (Heard once in an extremely low volume.)
Hollywoodedge, Sword Or Bayonet Juic PE101701 (Muffled effect added; heard once when Dave stabs one of the alligator's with a shovel.)
Hollywoodedge, Window Pane Shatters FS025302 (Heard once when an alligator smashes it's way through a window.)
Hollywoodedge, Wood Door OC Bounce PE180501 (Opening element only; heard twice for the front door being opened.)
Sound Ideas, THUNDER - THUNDER CLAP AND RUMBLE, WEATHER 01 (Series 6000) (Both normal and muffled variants.)
Sound Ideas, WATER, SPLASH - ROCK THROWN IN WATER, BIG SPLASH, DIGIFFECTS (Heard once, when an alligator pops out of the water to attack Haley.)
Image Gallery
Audio Samples
External Links