(Adding categories)

 

(4 intermediate revisions by the same user not shown)
Line 19:
Line 19:
 

[[Category:Rated R]]

 

[[Category:Rated R]]

 

[[Category:Rated R Movies]]

 

[[Category:Rated R Movies]]

−

[[Category:Rated R Live-Action Movies]]

+

[[Category:Rated R Live-Action Movies]]

−

[[Category:Live-Action Movies]]

+

[[Category:Live-Action ]]

 

[[Category:Epic Films]]

 

[[Category:Epic Films]]

 

[[Category:Science Fiction Films]]

 

[[Category:Science Fiction Films]]

Line 26:
Line 26:
 

[[Category:Drama Films]]

 

[[Category:Drama Films]]

 

[[Category:Drama Movies]]

 

[[Category:Drama Movies]]

 
⚫
 

[[Category:Warner Bros. Movies]]

 

[[Category:Warner Bros. Movies]]

 

[[Category:Warner Bros. Pictures Films]]

 

[[Category:Warner Bros. Pictures Films]]

Line 31:
Line 32:
 

[[Category:Warner Bros. R-Rated Movies]]

 

[[Category:Warner Bros. R-Rated Movies]]

 

[[Category:X-Verleih Movies]]

 

[[Category:X-Verleih Movies]]

⚫
 
 

[[Category:Films Directed By Lana Wachowski]]

 

[[Category:Films Directed By Lana Wachowski]]

−

[[Category:Films Directed by Lilly Wachowski]]

+

[[Category:Films Directed Lilly Wachowski]]

 

[[Category:Films Directed By Tom Tykwer]]

 

[[Category:Films Directed By Tom Tykwer]]

 
+

[[Category:Movies that have music composed by Reinhold Heil]]

 
+

[[Category:Movies that have music composed by Johnny Klimek]]

 
+

[[Category:Movies that have music composed by Tom Tykwer]]
---
Latest revision as of 00:20, 4 December 2020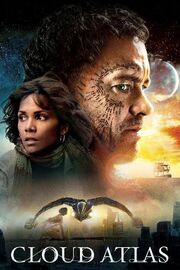 Cloud Atlas is a 2012 epic science fiction film written and directed by the Wachowskis and Tom Tykwer. Adapted from the 2004 novel of the same name by David Mitchell, the film has multiple plots occurring during six different eras in time; Mitchell described it as "a sort of pointillist mosaic." Tom Hanks, Halle Berry, and Jim Broadbent star as part of an ensemble cast.
The film was produced by Grant Hill and Stefan Arndt, in addition to the Wachowskis and Tykwer. During its four years of development, the project met with some difficulties in securing financial support. However, the film was eventually produced with a US$128.5 million net budget provided by independent sources, making it one of the most expensive independent films ever produced. Production for Cloud Atlas began in September 2011 at Babelsberg Studio in Potsdam-Babelsberg, Germany.
Cloud Atlas premiered on September 8, 2012 at the 37th Toronto International Film Festival, and was publicly released on October 26, 2012 in conventional and IMAX cinemas. Film critics were polarized, causing it to be included on various "Best Film" and "Worst Film" lists. It was nominated for a Golden Globe Award for Best Original Score for Tykwer (who co-scored the film), Johnny Klimek, and Reinhold Heil. It received several nominations at the Saturn Awards (which focus on science fiction, fantasy, and horror), including Best Science Fiction Film, which went to The Avengers, and won in the Best Editing and Best Make-up categories.
Storyline
Sound Effects Used
Image Gallery
Audio Samples
External Links