Spider-Man: No Way Home Trailer Dropped - The Loop
Play Sound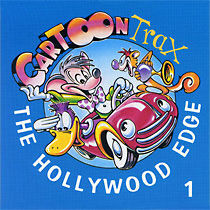 Cartoon Trax Volume 1 is a cartoon sound effects library made by The Hollywood Edge. It was first released in the summer of 1992.
It contains a large collection of classic Disney sound effects, along with a few Warner Bros., Universal/Walter Lantz Productions and King Features effects; it also includes some newer cartoon sound effects that were created by Nickelodeon's sound designer/supervisor Mark Schultz for Nick Arcade in 1991.
This sound effects library is widely being used in animation and media today.
Sound Categories
CRT-01
Bees
Large Swarm Bees Mad CRT010101
Mosquitoes
Insects
High PInsect Buzz Ds CRT010105
Fly
Fly Buzz Annoying So CRT010201
Fly Buzz Around By An CRT010202
Fly Buzz Short BackF CRT010203
Fly Buzz Quick BuzzF CRT010204
Funny Fly Breaths He CRT010301
Fly Pants Falls Wbuz CRT010302
Insect Voice
Fly Laughs Wwing Buz CRT010501
Fly Laughs Wwing Buz CRT010502
Fly Musical
Fly Buzz Bugle Revel CRT010503
Fly
Fly Tries To Get Up Fa CRT010602
Fly Buzz Small Rapid CRT010603
Birds
Killdeer Cries Hi Pi CRT010702
Crow Caws Beware Awa CRT010704
Crow Coos Caw Unique CRT010705
Various Crow Caws Un CRT010707
Bats
Short Squeal Bat Rat CRT010901
Short Squeal Bat Rat CRT010902
Small Group Bats Fly CRT010903
Large Slow Wing Flap CRT010904
Wings
Single Bat Wing Flap CRT010906
Bats
Small Group Bats Fly CRT010907
Single Bat Flying Sq CRT010908
Chickens
Human Imita Mad Chic CRT011202
Ducks
Barred Owl Or Duck Qu CRT011302
Duck Quacks Rapid Up CRT011303
Yawn
Cat Or Duck Yawns 3 Ty CRT011306
Ducks
Group Ducks Wbusy Qu CRT011308
Pig
Funny Pig Oinks Vari CRT011401
Hog
Funny Wart Hog Grunt CRT011402
Pig
Funny Pig Oinks Wbul CRT011403
Rapid Slurp Pig Oink CRT011404
Lamb
Goat
Cow
Horse
Funny Rapid Horse Ho CRT011804
Donkey
Dog
Funny Sm Puppy Barks CRT012002
Funny Sm Puppy Plays CRT012003
Funny Upset Dog Grow CRT012004
Funny Angry Dog Grow CRT012005
Funny Dog Growl Pant CRT012201
Dog Sniffs Rapid Wlo CRT012301
Dog Sniffs Rapid Wlo CRT012302
Large Dog Lion Sniff CRT012304
Wolf
Single Long Wolf How CRT012502
Single Long Wolf How CRT012503
Long Single Wolf How CRT012504
Cat
Cat Yowls Longie Ste CRT012605
Cat Tuning Up Wmeows CRT012703
Cat Tuning Up Throat CRT012704
Lion
Attack Jaw Snaps Hvy CRT012802
Attack Jaw Snaps Hvy CRT012803
Elephants
Elephant Calls 3x Wl CRT012902
Frog
Single Frog Croak Cl CRT013001
Mouse
High Pitch Moose Cal CRT013101
Animals
Marmot Or Small Anim CRT013102
Marmot Or Small Anim CRT013103
Squirrel
Gopher
Animals
Funny Sm Creatur Vox CRT013201
Sm Animal Falls Funy CRT013202
Monkey
Animals
Animal Voice
Seals
Group Seals Or DogsB CRT013402
Funny Seal Pup Growl CRT013403
Funny Seal Pup Growl CRT013404
Animals
Monkey
Animals
Whale
Whale Lg Anim Sneeze CRT013602
Monster
Deep Wet Growl Animl CRT013701
Deep Wet Growl Animl CRT013702
Big Rev Monstr Snors CRT013801
Big Rev Monstr Snors CRT013802
Lg Hiss Growl Cretur CRT013803
Crture Growl Foot St CRT013901
Crture Growl Foot St CRT013902
Snake
Animals
Boxing
Boxing Matc Bell Hit CRT014201
Chimes & Bells
Single Low Bell Gong CRT014202
Clssic Two Door Bell CRT014301
Moves
Funny Head Shake Bel CRT014501
Chimes & Bells
Musical FX
Chimes & Bells
Old Fire Bellgong Ri CRT014601
Old Fire Bellgong Ri CRT014602
Alarm
Old Alarm Clock Ring CRT014603
Old Alarm Clock Ring CRT014701
Chimes & Bells
Short Rapid School Bell CRT014702
Alarm
Old Alarm Clock Ring CRT014801
Old Alarm Clock Ring CRT014802
Chimes & Bells
Musical FX
Long Sleigh Bells Sh CRT014902
Quick Double Bell Di CRT015001
Single Small Bell Di CRT015002
Med Ascen Gliss Gloc CRT015202
Fast Rhythc Bell Din CRT015301
Fast Rhythc Bell Din CRT015302
High Bird Chirp Bell CRT015501
Gong Hit Wring Stret CRT015602
Gong Hit Wring Stret CRT015603
Chimes & Bells
Boxing Bell Type Rin CRT015701
Moves
Bounce
Bounce Jews Harp Air CRT015803
Musical FX
Twangy Boings 7 Type CRT015901
Med High Pitch Boing CRT016001
Synthy Low Pit Boing CRT016101
Synthy Low Pit Boing CRT016102
Synthy Low Pit Boing CRT016103
Synthy Low Pit Boing CRT016104
Synthy Low Pit Boing CRT016105
Synthy Low Pit Boing CRT016106
Twangy Boing Jews Ha CRT016201
Impacts
Metallic Boing Ie Si CRT016706
Musical FX
Impacts
Comedy Body Fall Msx CRT017301
Musical FX
Impacts
Fst Hvy Metallic Imp CRT017305
Crashes
Sharp Quick Snap Rev CRT017603
Quick Swish Slide Wh CRT017903
Yell Stretch Whiz Cr CRT017904
Boing Followed By Me CRT017905
Small Quick Swish Ws CRT018001
Musical FX
Drum Roll Slide Whis CRT018101
Low Short Drum RollB CRT018302
Sound FX
Inflate Pop Land Tir CRT018401
Short Bulb Horn Honk CRT018405
Short Bulb Horn Honk CRT018406
Rapid Airy Snifs Fol CRT018407
Long Bulb Horn HonkS CRT018501
Airy Bubbles Wwet Po CRT018601
Manual Water Pump Ws CRT018603
Musical FX
Impacts
Sound FX
Impacts
Musical FX
Sound FX
Funny Pop Snore Slee CRT019102
Musical FX
Sound FX
Crashes
Cartn Knck Out Birds CRT019301
Sound FX
Musical FX
Wooden Blck Hits Raz CRT019402
Impacts
Sound FX
Wet Crunchy Bites De CRT019601
Impacts
Fast Juicy Pie Splat CRT019701
Sound FX
CRT-02
Explosion
Shot Gun
Shot Gun Blast Wspla CRT020108
Low Shot Gun Blast Wa CRT020109
Musical FX
Timpani Drum Hits Lo CRT020201
Timpani Drum Hits Lo CRT020202
Timpani Drum Hits Lo CRT020203
Timpani Drum Hits Lo CRT020204
Timpani Drum Hits Lo CRT020205
Sound FX
Shave A Haircut TapD CRT020302
Wet Goopy Gooey Sing CRT020304
Short Rapid Hits Wsm CRT020401
Musical FX
Sound FX
Group Men Run Wgrunt CRT020501
Musical FX
Short Bulb Horn Honk CRT020701
Short Bulb Horn Honk CRT020703
Single Short Bulb Ho CRT020705
Bounce Horn Honk 9xi CRT020802
Sound FX
Musical FX
Short Low To Highpit CRT020904
Short High Wlow Over CRT020905
Medium Long Lower Pi CRT021001
Long Bulb Horn Blast CRT021002
Short Airy Bulb Horn CRT021003
Car Horn
Single Car Horn Honk CRT021201
Single Car Horn Honk CRT021202
Single Car Horn Honk CRT021203
Single Car Horn Honk CRT021204
Single Car Horn Honk CRT021205
Single Car Horn Honk CRT021206
Single Car Horn Honk CRT021207
Single Car Horn Honk CRT021208
Single Car Horn Honk CRT021209
Single Car Horn Honk CRT021210
Single Car Horn Honk CRT021211
Single Car Horn Honk CRT021212
Single Car Horn Honk CRT021213
Old Car Horns Single CRT021301
Old Car Horns Single CRT021302
Old Car Horns Single CRT021303
Old Car Horns Single CRT021304
Old Car Horns Single CRT021305
Old Car Horns Single CRT021306
Old Car Horns Single CRT021307
Old Car Horns Single CRT021308
Musical FX
Car Horn Musical Tru CRT021401
Car Horn 2 Toned Truc CRT021403
Car Horn
Old Car Hornsie 1920 CRT021501
Old Car Hornsie 1920 CRT021502
Musical FX
Vocals
Man Chuckles Short 4 CRT021701
Man Laughs W sarcast CRT021801
Man Laughs Wa Sobbin CRT022601
Man Laughs Wa Sobbin CRT022701
Man Laughs Hard Stea CRT022801
Crazy Man Laughing 2 CRT023201
Goofy ga hugh Type St CRT023402
Man Laughs Oohs OwsE CRT023404
Small Group Men Laug CRT023502
Small Group Boys Lau CRT023503
Evil Man Laughs Wrev CRT024102
Big Devil Laugh Wwat CRT024303
Man Crying Wother Ma CRT024401
Man Crying Almost Li CRT024501
Little Girl Cries Ws CRT024701
Man Snoring Wbig Sno CRT024901
Man Snoring Wbig Flu CRT024902
Man Snoring Wlong Sn CRT024904
Man Snoring Wlong Sn CRT024905
Man Snoring Wlong Sn CRT025001
Man Snoring Wdeep Sn CRT025002
Man Snoring Wmed Sno CRT025003
Man Snoring Wlong Sn CRT025101
Man Snoring Wlong Me CRT025301
Man Snoring Wlong Sn CRT025402
Man Snoring Wlong Sn CRT025601
Man Snoring Wlong Sn CRT025602
Man Snoring Wlong Sn CRT025603
Man Snoring Wlong Sn CRT025604
Man Snoring Wlong Tr CRT025605
Horse Snoring Or Bre CRT025701
Group Men Snore Wvar CRT025702
3 Men Snoring 1 Snort CRT025704
Man Snoring Snort Tr CRT025705
Man Sneezes Wbig Lon CRT025801
Scat Dance Build UpT CRT025804
1 Inhale Followed By CRT025806
5 Quick Inhales 1 Big CRT025904
Man Sneezes Wbig Bui CRT026002
Man Sneezes Whuge Lo CRT026003
Man Sneezes Whuge Lo CRT026004
Man Sneezes Whuge Lo CRT026005
Man Sneeze Wbig Long CRT026101
Man Sneezes Whuge Bu CRT026102
Man Sneezes Wbig Lon CRT026103
Hiccups Wa Horse Lik CRT026201
Bull Seal Wgrunts Hi CRT026302
Rapid Lip Smacks Voc CRT026402
Smack Lips Slowly Si CRT026403
Juicy Chewing Or Sma CRT026501
Very Wet Lip Smackin CRT026505
Big Wet Slurp Lip Sma CRT026603
Man Gargles 3x 1st On CRT026701
Single Gulp ie Mista CRT026801
Big Single Gulps For CRT026802
Big Single Gulp ie Dr CRT026803
Trying To Swallow Wb CRT026804
Big Inhale Exhale Wb CRT027202
Reactions
Vocals
Wet Sucky Smacky Kis CRT027701
Dry Squeaky Kiss OrS CRT027702
Squeaky Kiss Wpop At CRT027703
Spits For Tobacco Or CRT027801
Small Group Men Pant CRT027902
Reactions
Vocals
Man Yawns Softly Wwh CRT028101
Big Quiet Yawn Lip Sm CRT028102
Man Yawns Winhale St CRT028103
Girl Screams Long Hi CRT028201
Man Yells Long Paine CRT028302
Grunts Wo Drum Hitsi CRT028406
Grunts Wo Drum Hitsi CRT028407
Grunts Wo Drum Hitsi CRT028408
Grunts Wo Drum Hitsi CRT028409
Grunts Wo Drum Hitsi CRT028410
Man Grunts Ahhhs Ooo CRT028505
Man Uuuhs Uuugggs 7T CRT028506
Small Group Men Wstr CRT028601
Small Group Men Grun CRT028602
Big Bar Fight Wglass CRT028701
Man Being Tortured Y CRT028901
Reactions
Vocals
Man Grunts Snorts St CRT028903
Reactions
Small Mixed Group Wf CRT029001
Vocals
Small Group Men Wexc CRT029101
Mad Womans Voice Spe CRT029103
Two Men Yelling 1stY CRT029201
Reactions
Vocals
Party Noise Wtoy Hor CRT029203
Sound FX
Vocals
Man Yodeling 2 Types CRT029601
Single Indian War Wh CRT029801
CRT-03
Vocals
Vocal Boinkie Eye Po CRT030101
Impacts
Quick Air Release Ho CRT030102
Single Bounce Or Boi CRT030103
Deep Boomy Thud Wrap CRT030602
Big Wet Goopy Impact CRT030603
Short Swish Sharp Sl CRT030701
Quick Swish Sharp Im CRT030702
2 Large Wood Crunche CRT030805
Short Heavy Wood Cru CRT030806
Gate Opens Hinges Cr CRT030807
Single Knock On Holl CRT030901
Single Knock On Holl CRT030902
Single Knock On Holl CRT030903
Sgl Solid Wood Impct CRT030904
Sgl Solid Wood Impct CRT030905
Sgl Hollow Wood Bomp CRT031002
Small Hollow Drum Hi CRT031101
Small Hollow Drum Hi CRT031102
Small Hollow Drum Hi CRT031103
Small Hollow Drum Hi CRT031104
Thin Metallic Pot Or CRT031201
Thin Metallic Pot Or CRT031202
Thin Metallic Pot Or CRT031203
Thin Metallic Pot Or CRT031204
Thin Metallic Pot Or CRT031205
Thin Metallic Pot Or CRT031206
Thin Metallic Pot Or CRT031207
Thin Metallic Pot Or CRT031208
Metal Hit Various Th CRT031301
Metal Hit Various Th CRT031302
Metal Hit Various Th CRT031303
Metal Hit Various Th CRT031304
Metal Hit Various Th CRT031305
Metal Hit Various Th CRT031306
Metal Hit Various Th CRT031307
Metal Hit Various Th CRT031308
Metal Hit Various Th CRT031309
Metal Hit Various Th CRT031310
Two Toned Heavy Metal CRT031803
Head Bonk Wbell Drum CRT031901
Rev Metall Crunch Cr CRT032301
Rev Metall Crunch Cr CRT032302
Rev Metall Crunch Cr CRT032303
Head Bonk Whorn 3 Typ CRT032401
Head Bonk 2 Types One CRT032402
Short Bass Honk WCow CRT032406
Sharp Drum Impact Wh CRT032503
Bong With Glass Break CRT032506
2 Aluminum Cans Fall CRT032701
Cans Fall Wsharp Imp CRT032702
Heavy Bonk Wbass Dru CRT033001
Heavy Head Bonk Fall CRT033002
Kick Miss Landie Obj CRT033003
Head Bonk Wcymbal Cr CRT033004
Honk With Cymbal Crash CRT033005
Bell Gong With Funny Whi CRT033006
Single Solid Met Hit CRT033204
Fall Tumble Down Sta CRT033402
Cans Crash Floor Rol CRT033403
Big Junk Crashes Wso CRT033703
Kick Fly Tumble Wbel CRT033801
Metal Bonk Fall Tumb CRT033802
Bulb Horn Honk Small CRT033803
Banging On Heavy Met CRT033804
Fast Honk Heavy Flat CRT033805
Cow Bell Other Metal CRT034005
Mechanical
Funny Clock Or Machi CRT034601
Funny Alarm Clock Be CRT034701
Funny Toy Machine Gu CRT035203
Large Servo Motor St CRT035902
Windup Small Toy Mot CRT036201
Clock Tick Game Show CRT036401
Funny Hollow Tic Toc CRT036601
Fishing Reel Cast Wp CRT037803
Medium Short Duck Qu CRT038801
Auto Jack Wrapid Squ CRT038903
Fast Rhythm Metal Im CRT039001
CRT-04
Impacts
Bullet Ricco Whiz By CRT040201
Mud Pots Blurps Bubb CRT040401
Mud Pots Blurps Bubb CRT040402
Mud Pots Blurps Bubb CRT040403
Mud Pots Blurps Bubb CRT040404
Mud Pots Blurps Bubb CRT040405
Mud Pots Blurps Bubb CRT040406
Mud Pots Blurps Bubb CRT040407
Mud Pots Blurps Bubb CRT040408
Mud Pots Blurps Bubb CRT040409
Sequences
Weird Wind Wgust Bys CRT041002
Weird Wind Wgust Bys CRT041003
Impacts
Window Shade Roll Up CRT041403
Window Shade Roll Up CRT041404
Window Shade Roll Up CRT041405
Funny Mid Tempo Slap CRT041407
Rapid Metal Disk Rol CRT041608
Vocals
Toy Doll Cries Squea CRT042001
Toy Doll Cries Human CRT042002
Big Inhale WDrum Hit CRT042003
Wing Flaps
Sound FX
Nuts Bolts Pour Glas CRT042502
Short Snare Drum Rol CRT042601
Musical FX
Fast Snare Drum Roll CRT042701
Fast Snare Drum Roll CRT042702
Fast Snare Drum Roll CRT042703
Slow Snare Drum Roll CRT042704
Loud Snare Drum Roll CRT042705
Slow Snare Drum Roll CRT042706
Fast Snare Drum Roll CRT042707
Fast Snare Drum Roll CRT042708
Field Drum Roll Beat CRT043001
Field Drum Roll Beat CRT043002
Timpani Drum Roll Lo CRT043103
Short Conga Drum Hit CRT043301
Fast Music Beats Met CRT043506
Fast Music Beats Dru CRT043507
Bass Drum With Cym Crash CRT043903
Bass Drum With Cym Crash CRT043904
Army Bugle Messes Up CRT044201
Muted Trumpet Fanfar CRT044306
Large Gauge Horn Sho CRT044802
Med Gauge Horn Sheep CRT044803
Vibra Harp Slide Whi CRT046501
Small Twang Hair Plu CRT047101
Alto Sax Playing Sho CRT048001
Alto Sax Playing Sho CRT048002
Alto Sax Playing Sho CRT048003
Music Slow Head Turn CRT048201
Pop With Musical Gliss CRT048401
Bass Drum Hit With Gliss CRT048602
Short Up Tempo Music CRT049001
Impacts
Slow Stretch Rip Pop CRT049702
CRT-05
Vocals
Small Group Men Razz CRT050401
Angry Razzdo Do Do Do CRT050402
Angry Razzdo Do Do Do CRT050403
Angry Razzdo Do Do Do CRT050404
Sci-Fi
Quick Laser Zap Shor CRT051001
UfO Spac Shp Take Off CRT051601
Ufo Start Wvery Slow CRT051606
Ufo Start Wvery Slow CRT051607
Impacts
Squeaks
Four Short Back Fort CRT053201
Fun Wnd Wiper Squeak CRT053401
Lg Metal Wheel Creak CRT053701
Lg Metal Wheel Creak CRT053702
Long Slow Wood Creak CRT053801
Long Slow Wood Creak CRT053802
Long Slow Wood Creak CRT053803
Whoosh & Swish
Quick Swish By Wligh CRT053907
Slip Fall High Pitch CRT054304
Slip Fall Low Impact CRT054305
Slip Fall Glass Brea CRT054309
Vehicles
Old Car False Starts CRT055001
Old Car False Starts CRT055002
Old Car False Starts CRT055003
Car False Starts Med CRT055004
Model A Start Idle Wb CRT055005
Gear Grinds 1946 Dod CRT055101
Gear Grinds 1946 Dod CRT055102
Gear Grinds 1946 Dod CRT055103
Long Crash Tire Skid CRT055201
Funny Engine Pop Spu CRT055301
Funny 1920s Car Engi CRT055604
Funny Car Motor Horn CRT055704
Engine Angry Car Gro CRT055801
Engine Angry Car Gro CRT055802
Engine Angry Car Gro CRT055803
Engine Angry Car Gro CRT055804
Sgl Eng Prop Pl Dives CRT056101
Sgl Eng Prop Pl Dives CRT056102
Sgl Eng Prop Pl Dives CRT056103
Multi Prop Planes Di CRT056105
Plane ASteep Dive Th CRT056107
Plane ASteep Dive En CRT056108
Water
Fast Liquid Pour Spl CRT056605
Rowing Small Boat Wo CRT057203
Manual Water Pump Up CRT057204
Musical FX
Quick Whistle Zip By CRT057501
Quick Whistle Zip By CRT057502
Quick Whistle Zip By CRT057503
Quick Whistle Zip By CRT057504
Quick Whistle Zip By CRT057505
Quick Whistle Zip By CRT057506
Slide Whistle In Out CRT057601
Slide Whistle In Out CRT057602
Slide Whistle In Out CRT057603
Slide Whistle In Out CRT057701
Slide Whistle In Out CRT057702
Slide Whistle In Out CRT057703
Slide Whistle In Out CRT057801
Slip Fall Wsolid Met CRT058101
Slip Fall Whorn Cymbal CRT058102
Bulb Horn Honk SlowD CRT058201
Bulb Horn Honk SlowA CRT058202
Airy Scrape Twirl Qu CRT058503
Balloon Pop Funny Ai CRT058701
Boat Or Factory Whis CRT058901
1 Short Train Whistl CRT058904
2 Short Train Whistl CRT058905
Hi Pit Train Whistle CRT058906
3 Short Quick Whistl CRT058908
Vocals
Zaps
Magic Wand Zap Music CRT059403
Musical FX
Zaps
Drum Hit Wsynthy Bee CRT059501
Drum Hit Wsynthy Bee CRT059502
Dull Heavy Lazer Sho CRT059607
Whooshes
Zaps
Low Pitch Lazer Shot CRT059905
2 Low Pitch Lazer Sho CRT059906
Crashes
Glass Broken By Heav CRT059907
Zaps
External Links