Obi-Wan Finale - The Loop
Play Sound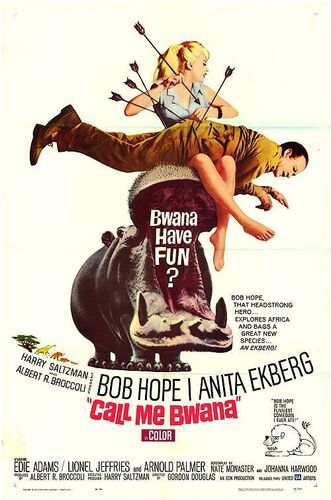 Call Me Bwana is a 1963 British Technicolor farce film starring Bob Hope and Anita Ekberg, and directed by Gordon Douglas.
Largely set in Africa, it is the first film made by Eon Productions not about the fictional MI6 agent James Bond and was made by most of the same crew as Dr. No.
Storyline
Bob Hope plays Matt Merriwether, a New York writer who has passed off his uncle's memoirs of explorations in Africa as his own. Merriwether lives his false reputation as a great white hunter to the point of living in a Manhattan apartment furnished to look like an African safari lodge complete with sound effects records of African fauna. Based on his false reputation as an "Africa Expert", he is recruited by the United States Government and NASA to locate a missing secret space probe before it can be located by hostile forces.
Hope's co-stars include Edie Adams and Anita Ekberg playing secret agents. Golfer Arnold Palmer also makes a brief cameo, playing a crazy round of golf with Hope—a scene revisited in the film Spies Like Us where Hope makes a cameo appearance and plays golf through a tent. A scene involving an unseen President John F. Kennedy in his famous rocking chair is parodied with his Russian counterpart Nikita Khrushchev rocking in a chair that squeaks loudly.
Sound Effects Used
Image Gallery
Audio Samples