Doctor Strange in The Multiverse o Madness - The Loop
Play Sound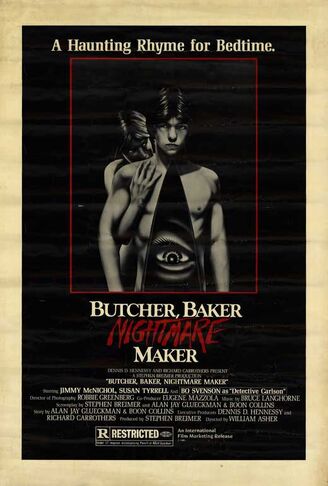 Butcher, Baker, Nightmare Maker (later re-released as Night Warning) is a 1981 American exploitation horror film directed by William Asher, and starring Susan Tyrrell, Jimmy McNichol, Julia Duffy, and Bo Svenson. Framed as a contemporary Oedipus tale, the plot focuses on a teenager who, raised by his neurotic aunt, finds himself at the center of a murder investigation after she stabs a man to death in their house. The boy's sexually repressed aunt secretly harbors incestuous feelings for him, while a homophobic detective investigating the crime irrationally believes the murder to be a result of a homosexual love triangle.
Financed by the independent Royal American Pictures, the film was shot in Los Angeles in 1981. Michael Miller was originally hired to direct, and completed the filming of the opening sequence with cinematographer Jan de Bont before being fired and replaced by Asher, who shot the remainder of the film with Robbie Greenberg.
Given a regional release in Oregon in November 1981 through Comworld Pictures, the film expanded to other U.S. cities in early 1982, and was nominated for a Saturn Award for the Best Horror Movie of 1982 by the Academy of Science Fiction, Fantasy and Horror Films. It was reissued theatrically in 1983 under the title Night Warning, under which it was subsequently released on home video. The film has attracted critical discussion for its early positive portrayal of a gay male character.
Storyline
Seventeen year old high school senior Billy Lynch was raised by his maternal aunt, Cheryl Roberts, with who he has lived since the age of three, when his parents died in a tragic accident. As never married Aunt Cheryl has not dated over that time, it has been only her and Billy in the big, old house next to the woods. Billy hopes to get a basketball scholarship to the University of Denver, where his girlfriend of one year, Julie Linden, will be attending. Aunt Cheryl, in her possessiveness of Billy, doesn't let Julie into the house and doesn't want Billy to go away to college. What those around her don't know is that Cheryl is deranged and will do whatever it takes to keep Billy all to herself. What Billy also does not know is that there is an unknown third in his and Aunt Cheryl's relationship, that third who is either the cause of or has exacerbated her derangement. Aunt Cheryl's actions lead to Billy being implicated in a murder, Billy's plea of innocence which is not helped by the narrow-mindedness of the lead police detective, hyper-masculine Lieutenant Joe Carlson. Billy, those close to him and anyone who gets too close to discovering the truth about Aunt Cheryl could be in danger at her hands in the process.
Sound Effects Used
Image Gallery
Audio Samples