Jurassic World: Dominion Dominates Fandom Wikis - The Loop
Play Sound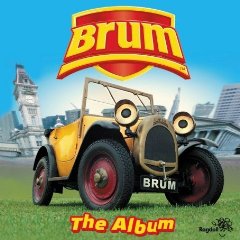 Brum (/ˈbrʌm/), also known as The Adventures of Brum, is a British children's television series about the adventures of a small, sentient vintage car. The series was originally narrated by Toyah Willcox, who also provided the voice for Brum and all the characters. The show aired for five series between 1991 and 2002 with two revived CGI series airing in 2016. The show was first aired on BBC One on the children's block, Children's BBC (CBBC).
Set in Birmingham, England and produced by Ragdoll Productions, Brum was first broadcast in 1991 and the last live-action series was broadcast in 2002. It was initially directed, written and produced by Anne Wood and initially narrated by Toyah Willcox who also provided the voice for Brum and all the characters in story form. From series 3, all the characters including Brum were silent except for the car noises. The narrator provided commentary rather than the previous story form. A new CGI-animated series, aimed at young pre-school children, was produced in 2016.
Storyline
Brum is a small car that lives in a garage with lots of other old cars. But Brum is different than the others, as he comes to life. His owner doesn't know this and doesn't know that he sneaks out behind his back for adventure.
He loves to go around Birmingham, England every day to find adventures and he meets some of his friends. Follow him as he helps to save the day by identifying criminals stealing stuff or just stops things like a dog from getting away or runaway objects and he even dances with people in the ending.
Then its time for Brum to return and sneak back into the garage, past his owner, before anyone notices that he's missing. Then he goes fast asleep.
He can drive by himself and can express himself in a number of ways including opening and closing his doors and bonnet, "bobbing" his suspension, flashing and swiveling his headlamps, rotating his starting crank, extending his turn signals, and using his horn. He opens his doors to make him happy and flaps his bonnet up to make him angry, but in the older series, he does not. Sometimes you can tell from his eyes.
Description
The show mainly uses Hanna-Barbera, Premiere Edition Volume 1 and Cartoon Trax sound effects (along with a few Warner Bros. sounds that were only heard in a few episodes).
Also See
TV Show Intro
Sound Effects Used
1991-1994 Series
2001-2002 Series
External Links
http://www.jedisparadise.com/1/Brum.htm
http://www.imdb.com/title/tt0217177/
https://en.wikipedia.org/wiki/Brum_(TV_series)
Image Gallery
Audio Samples