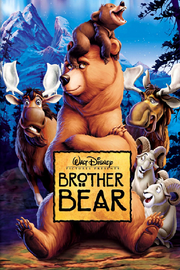 Storyline
Kenai, a man who resents bears after a fight with one kills his older brother, is turned into a bear so he can see life from a different perspective. He is visited by the spirit of his older brother, and is told that, if he wishes to be changed back into a human, he must travel to the place where the lights touch the Earth, in other words, the Northern Lights. Fueled by hope, Kenai sets off on his long journey, and, along the way, encounters a younger bear, Koda, who is a chatterbox and a fun-loving spirit; Koda is trying to find his way back to his home, the Salmon Run, which, coincidentally, if right next to where to lights touch the Earth. Koda and Kenai team up, but are hunted by Kenai's other Denahi, who fears that the bear has killed Kenai as well. Along the way, the two bears meet other friends including two moose, some rams, and some mammoths, with whom they hitch a ride. However, Kenai discovers that he likes being a bear, and realizes that humans aren't only...
Also See
Movie Trailer
Sound Effects Used
Image Gallery
Brother Bear (2003)/Image Gallery
Audio Samples
External links
Community content is available under
CC-BY-SA
unless otherwise noted.