Jurassic World: Dominion Dominates Fandom Wikis - The Loop
Play Sound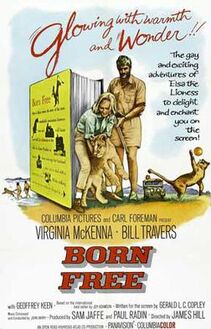 Born Free is a 1966 British drama film starring Virginia McKenna and Bill Travers as Joy and George Adamson, a real-life couple who raised Elsa the Lioness, an orphaned lion cub, to adulthood, and released her into the wilderness of Kenya. The film was produced by Open Road Films Ltd. and Columbia Pictures. The screenplay, written by blacklisted Hollywood writer Lester Cole (under the pseudonym "Gerald L.C. Copley"), was based upon Joy Adamson's 1960 non-fiction book Born Free. The film was directed by James Hill and produced by Sam Jaffe and Paul Radin. Born Free, and its musical score by John Barry, won numerous awards.
Storyline
In a village in the Northern Province of Kenya, a human is killed and eaten by a male lion. British senior game warden, George Adamson (Bill Travers) is sent in to kill the menacing lion and also his female, who charges him in defence of her three cubs. George brings the three cubs home to his wife Joy (Virginia McKenna) and raises them. They name the cubs Big One, Lastika and Elsa who is the youngest and the one which Joy and George become especially attached to. When the cubs get too old, the older two are sent to Rotterdam Zoo but the Adamsons choose to keep Elsa.
Some years later, Joy and George soon have to travel to Kiunga as George has been told by his boss, John Kendall (Geoffrey Keen) about a lion who is killing goats in a local village. George successfully manages to kill the lion and he and Joy are able to share a special holiday with Elsa, where they introduce her to the Indian Ocean. On returning to the Northern Province, the Adamsons learn that Elsa has caused a massive elephant stampede. Kendall states that the Adamsons can no longer keep Elsa and must find a zoo to take her in. However, Joy instead wishes to teach Elsa how to survive in the wild, which Kendall reluctantly gives her and George three months to do.
Joy and George travel to Meru National Park where they aim to release Elsa. Initially, they attempt to introduce Elsa to a male lion, which does not go to plan - they leave her overnight with a fresh zebra kill but return in the morning to find her all by herself. Elsa is constantly taken out to the bush but fails to make a kill, getting attacked by a warthog on one of these outings. Eventually, Joy and George decide to leave Elsa in the bush for at least a week and change the location of their camp so that Elsa can become more independent. However, they find her severely injured (possibly by wild lions). Joy still believes that she can teach Elsa to survive as she opposes sending her to a zoo, where she will have no freedom. This proves to be a good decision as Elsa eventually starts leaving the Adamsons for days at a time and eventually makes several kills. The Adamsons thus take her out for her final test - an attempt to join a wild pride. Elsa manages to fight a wild lioness and is accepted into the pride - Joy and George are overjoyed at their success but promise to see their dear friend again when they return to Kenya.
A year later, the Adamsons return to Kenya and are given a week to find Elsa. They are overjoyed to see that Elsa has succeeded as a wild lion and is now the mother of three cubs. However, Joy and George both agree that they will not interact with the cubs, allowing them to survive as wild lions.
Sound Effects Used
Image Gallery
Audio Samples
External Links