Jurassic World: Dominion Dominates Fandom Wikis - The Loop
Play Sound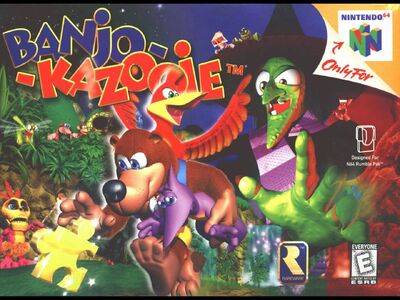 Banjo-Kazooie is a platform video game developed by Rare and originally released for the Nintendo 64 console in 1998. It is the first game in the Banjo-Kazooie series and follows the story of a bear, Banjo, and a bird, Kazooie, as they try to stop the witch Gruntilda, who intends to steal the beauty of Banjo's younger sister, Tooty, for herself. The game features nine nonlinear worlds where the player must use Banjo and Kazooie's wide range of abilities to gather items and progress through the story. It features challenges such as solving puzzles, jumping over obstacles, collecting items, and defeating opponents.
Originally conceived as an adventure game named Dream for the Super Nintendo Entertainment System, Banjo-Kazooie was designed to appeal to players of all ages in a similar vein to Walt Disney Animation Studios films. The game was a critical and commercial success, selling nearly two million copies in the United States. It was praised for its detailed graphics, dynamic soundtrack, and intricate level design, with many reviews comparing it favorably to Super Mario 64. In 1999, it received two awards from the Academy of Interactive Arts & Sciences: Console Action Game of the Year and Outstanding Achievement in Art/Graphics.
Banjo-Kazooie was followed by a sequel, Banjo-Tooie, in 2000. The game was remastered for the Xbox 360 in 2008 and included in the Rare Replay compilation for Xbox One in 2015. It was added to the Nintendo Switch Online library of Nintendo 64 games on 20 January 2022, marking its first re-release on a Nintendo console.
Storyline
In a region called Spiral Mountain, a foul-tempered witch named Gruntilda learns from her cauldron, Dingpot, that Tooty, a brown honey bear living nearby, is more beautiful than her. Jealous, Gruntilda creates a machine to transfer an entity's beauty to another, which she intends to use with Tooty. Gruntilda kidnaps Tooty while her older brother, Banjo, is sleeping. Banjo's friend Kazooie, a female red-crested "Breegull," wakes him up and the two resolve to rescue Tooty. While Banjo and Kazooie collect musical notes and Jiggies to traverse through Gruntilda's Lair, they are aided by Bottles, a mole and Tooty's friend, and Mumbo Jumbo, a shaman who used to be Gruntilda's teacher; they also rescue Jinjos, small creatures that Gruntilda imprisoned in each world.
Having gathered most of the musical notes and Jiggies, Banjo and Kazooie participate in a trivia game show hosted by Gruntilda, where they answer questions and complete challenges related to certain aspects of the game. Once they win the game, Banjo and Kazooie retrieve Tooty and celebrate with their friends and a barbecue. Shortly after the barbecue begins, however, Tooty, unsatisfied with her kidnapper's passive defeat, command the heroes to pursue the escaped Gruntilda. Banjo and Kazooie enter the top of the lair, where they confront the witch. A fierce battle ensues, but with the help of the Jinjos they rescued, the duo send Gruntilda falling towards Spiral Mountain, where she is trapped beneath a falling boulder. Banjo and Kazooie go on vacation at a beach with their friends and celebrate their victory. Gruntilda swears revenge against Banjo and Kazooie, calling for her henchman, Klungo, to move the boulder.
Release Date
June 29, 1998 (North America)
July 17, 1998 (Europe)
Also See
Sound Effects Used
Image Gallery
Audio Samples
External Links