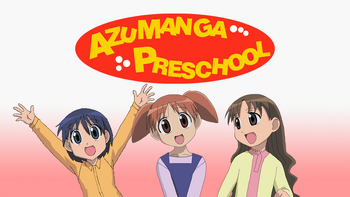 Azumanga Preschool is a prequel to Azumanga Daioh made by Azumanga Animation, it takes place before the actual Azumanga Daioh anime happened.
Storyline
Air Date
May 15, 2010 - October 7, 2010
Also See
Sound Effects Used
This anime uses the same sound effects as Azumanga Daioh, along with additional sounds from the Series 1000, Warner Bros., and The International Sound Effects Library. And uses UPA sound effects (containing both the Rocky and Bullwinkle, and Cartoon Trax Vol. 1 sound effects) as its trademark. Unlike Azumanga Daioh, it would only use selected sounds from The Premiere Edition Volume 1,.
Audio Samples
Sound Ideas, RICOCHET - SLICK RICCO 02 (first second) and 01 as heard alongside with each other.
External Links
Community content is available under
CC-BY-SA
unless otherwise noted.