Wiki Targeted (Entertainment)
Play Sound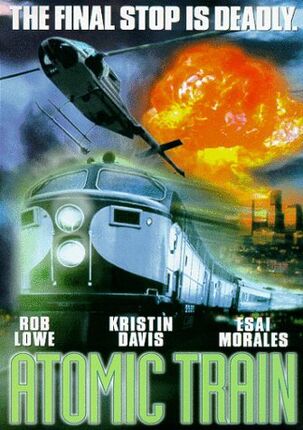 Storyline
An eastbound freight train was carrying hazardous chemicles on board when it suddenly lost its brakes & whent out of control aventulley they discoverd a deadly secret about the runaway it was carrying a russian made atomic bomb and NTSB agent john seger has to go stop the train before it reaches denver colorado and explodes. A waste disposal company has a Russian nuclear bomb to transport, and an employee decides to save money by concealing it on a freight train. The train, also loaded with hazardous and flammable chemicals, suffers a brake failure and becomes a runaway heading for Denver. A wreck world be bad enough, but mush, mush worse if the bomb goes off. A heroic NTSB investigator boards the train; he and the railway man try various ways to stop the train, but nothing works. Meanwhile Denver residents are struggling to collect their families and then leave town, despite rioters and gridlock. Will the train have to be derailed to stop it? If it does derail, will the bomb explode, and if it does, what then?
Also See
Atomic Train (1999) (Trailers)
Movie Trailer
Sound Effects Used
Sound Ideas, TRAIN, DIESEL - PASSES BY, HORN BLASTS
Sound Ideas, FIRE TRUCK - APPROACH, PASS BY IN CITY, SIREN, AIR HORN, TRAFFIC
Sound Ideas, AUTO, HORN - EXTERNAL: HORN DOPPLER EFFECT ON PASS BY, LEFT TO RIGHT 02
Sound Ideas, AUTO, CRASH - CAR CRASH, DIGIFFECTS
Hollywoodedge, Train Through Tunnel PE064301
Hollywoodedge, Train Long From Dista PE064401 - wheels only, heard in a high pitch.
Hollywoodedge, Car False Starts V8 Cl PE070101
Hollywoodedge, 1964 Cadillac Very Sl PE073001
Hollywoodedge, Lincoln Town Car In Sk PE073501
Hollywoodedge, Lincoln Town Car In Sk PE073601
Hollywoodedge, Doppler Car Horn By Ap PE077401
Hollywoodedge, Crash Metal Shatter PE110201
Hollywoodedge, Metal Trash Can Falls SS010401
Unknown Sound Effects Library, Train Wheels
Image Gallery
Audio samples
External links
Community content is available under
CC-BY-SA
unless otherwise noted.