She-Hulk Trailer Dropped - The Loop
Play Sound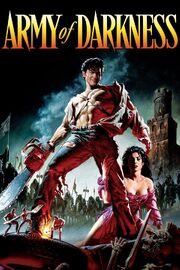 Army of Darkness (titled onscreen as Bruce Campbell vs. Army of Darkness and marketed as such on some home releases) is a 1992 American comedy horror film directed, co-written and co-edited by Sam Raimi, co-produced by Robert Tapert and Bruce Campbell and co-written by Ivan Raimi. Starring Campbell and Embeth Davidtz, it is the third instalment in the Evil Dead franchise and a sequel to Evil Dead II, and follows Ash Williams (Campbell) as he is trapped in the Middle Ages and battles the undead in his quest to return to the present.
The film was produced as part of a production deal with Universal Pictures after the financial success of Darkman. Filming took place in California in 1991. The makeup and creature effects for the film were handled by two different companies: Tony Gardner and his company Alterian, Inc., were responsible for the makeup effects for Ash and Sheila, while Kurtzman, Nicotero & Berger EFX Group was credited for the remaining special makeup effects characters. Tom Sullivan, who previously had worked on Within the Woods, The Evil Dead, and Evil Dead II, also contributed to the visual effects.
Army of Darkness premiered at the Sitges Film Festival on October 9, 1992, and was released in the United States on February 19, 1993. It grossed $21.5 million total over its $11 million budget and received positive reviews, though notably less than the first two films. Since its video release, it has a cult following acquired, along with the other two films in the trilogy. The film is dedicated to The Evil Dead sales agent and Evil Dead II executive producer Irvin Shapiro, who died before the film's production in 1989.
The Post Production Sound/Post Production & Re-Recording Facilities were provided by Skywalker Sound; Electric Melody Studios provided Digital Audio Editorial and uncredited sound services. Sound Designer Alan Howarth and Steven D. Williams supervised the sound. Larry Goodwin, Jason King, Jack Levy, Paul Menichini, and 2 uncredited creatives, Roger Mende and William Mings, did sound effects for the film as well. The foley was performed by Ellen Heuer and Joan Rowe and recorded by Mark Harris; foley was also programmed at Electric Melody Studios by Jackson Schwartz.
Storyline
Sound Effects Used
Image Gallery
Audio Samples
Also See
External Links