Doctor Strange in The Multiverse o Madness - The Loop
Play Sound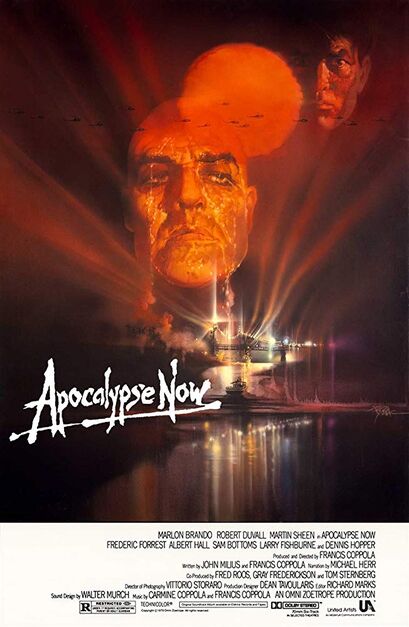 Apocalypse Now is a 1979 American epic war film directed, produced and co-written by Francis Ford Coppola. It stars Marlon Brando, Robert Duvall, Martin Sheen, Frederic Forrest, Albert Hall, Sam Bottoms, Laurence Fishburne, Harrison Ford, and Dennis Hopper. The screenplay, co-written by Coppola and John Milius and narration written by Michael Herr, was loosely based on the 1899 novella Heart of Darkness by Joseph Conrad. The setting was changed from late 19th-century Congo to the Vietnam War. The film follows a river journey from South Vietnam into Cambodia undertaken by Captain Benjamin L. Willard (a character based on Conrad's Marlow and played by Sheen), who is on a secret mission to assassinate Colonel Kurtz (Brando, with the character being based on Conrad's Mr. Kurtz), a renegade Army Special Forces officer accused of murder and who is presumed insane.
Milius became interested in adapting Heart of Darkness for a Vietnam War setting, and initially began developing the film with Coppola as producer and George Lucas as director. After Lucas became unavailable, Coppola took over directoral control, and was influenced by Werner Herzog's Aguirre, the Wrath of God (1972) in his approach to the material. Initially set to be a five-month shoot, the film became noted for the problems encountered while making it for over a year, as chronicled in the documentary Hearts of Darkness: A Filmmaker's Apocalypse (1991). These problems included Brando arriving on the set overweight and completely unprepared, expensive sets being destroyed by severe weather and Sheen having a breakdown and suffering a near-fatal heart attack while on location. Problems continued after production as the release was postponed several times while Coppola edited over a million feet of film.
Apocalypse Now was honored with the Palme d'Or at the Cannes Film Festival, where it premiered unfinished before it was finally released on August 15, 1979, by United Artists. The film performed well at the box office, grossing $78 million domestically and going on to gross over $150 million worldwide. Initial reviews were mixed; while Vittorio Storaro's cinematography was widely acclaimed, several critics found Coppola's handling of the story's major themes to be anticlimactic and intellectually disappointing. Apocalypse Now is today considered to be one of the greatest films ever made. It was nominated for eight Academy Awards at the 52nd Academy Awards, including Best Picture, Best Director (Coppola), and Best Supporting Actor for Duvall, and went on to win for Best Cinematography and Best Sound. It ranked No. 14 in Sight & Sound's greatest films poll in 2012, and No. 6 in the Director's Poll of greatest films of all time. Roger Ebert also included it in his top 10 list of greatest films ever in 2012. In 2000, the film was selected for preservation in the National Film Registry by the Library of Congress as being "culturally, historically or aesthetically significant".
The Post-Production Sound Services were provided by American Zoetrope itself through its post-production facility, which on this film went by the credit "Production and Post Production Facilities furnished through Omni Zoetrope Studios". Walter Murch did the Sound Montage and Design; Murch also served as one of many re-recordists and mixed re-mixes of this film at Skywalker Sound (1990 THX-Certified master, Stereo) and Saul Zaentz Film Center (1997 5.1 mix). Richard P. Cirincione was the Supervising Sound Editor. Randy Thom served as a Post Production Recordist (in other words, Sound Effects Recordist), gaining much knowledge from Murch's creative process on the film. Kitty Malone and Michael S. Murphey were the uncredited Foley Artists. Cliff Latimer was uncredited as an assistant in the sound department. Dennie Thorpe, a popular Foley Artist, began her post-production sound work on this film as Apprentice Sound Editor under the name "Denise Thorpe". Saul Zaentz Film Center also provided post-production sound for the special edition version, often known as "Apocalpyse Now Redux". Michael Kirchberger was the Supervising Sound Editor for this version, and Jeremy Molod edited the foley.
Sound Effects Used
Image Gallery
Audio Samples
External Links