Jurassic World: Dominion Dominates Fandom Wikis - The Loop
Play Sound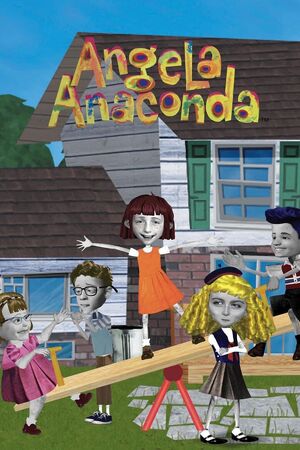 Angela Anaconda is a Canadian children's television series created by Joanna Ferrone and Sue Rose the latter of whom also voices the title character. The show ran for three seasons, from 1999 to 2001, for a total of 65 episodes.
The show centers on the adventures of an eight-year-old girl named Angela in the fictional town of Tapwater Springs. Other characters include Angela's three best friends and several antagonists.
Storyline
Angela Anaconda is an 8 year old freckle-faced girl who lived in the town of Tapwater Springs with her parents, two dimwitted elder brothers; Mark and Derek, her baby sister: Lulu, and closest friends; Johnny Abatti, Gina Lash, and Gordy Rhinehart. In every episode of the series, Angela will engage in at least one dream sequence. The majority of these feature her rivals Nanette Manoir and Mrs. Brinks, seeking vengeance on them in unrealistic fashions. Angela often imagines unusual things happening to her enemies, especially Nanette, including getting tossed into the air during an ice routine and falling through the ice or getting turned into a flash card and other bad things.
Also See
TV Show Intro
Sound Effects Used
This show mainly uses Cartoon Trax Volume 1 sound effects.
Elektra Records, Factory Whistle/Hollywoodedge, Factory Site Whistle PE275901/Sound Ideas, WHISTLE, STEAM - FACTORY WHISTLE, LARGE FACTORY/Sound Ideas, WHISTLE, FACTORY - STEAM WHISTLE: TWO BLASTS, INDUSTRY (VINTAGE RECORDING) 01 (Heard once in "My Fair Lulu".)
Hollywoodedge, Ascending Whistles CRT057902 (Heard once in "Angela Who?", "Injury to Insult", "Halls of Justice", "The List" and "Pranks for the Memories".)
Hollywoodedge, Bass Drum Hit With Gliss CRT048602 (1st gliss heard once in "All My Students".)
Hollywoodedge, Big Distant Dynamit CRT020101 (Heard twice in "Ice Breakers".)
Hollywoodedge, Big Metal Clangthud CRT031902 (Heard once in "Johnny Doesn't Live Here Anymore".)
Hollywoodedge, Big Metal Clangthud CRT031903 (Heard once in "Johnny Doesn't Live Here Anymore".)
Hollywoodedge, Big Single Gulps For CRT026802 (4th gulp heard once in "Pet Peeves".)
Hollywoodedge, Bird Rooster 2 Crow PE021501 (Heard once in "News at Eleven".)
Hollywoodedge, Boings For Impacts CRT016701 (1st boing heard once in "Cabin Fever", 4th boing heard once in "Angela Who?" and 6th boing heard thrice in "Gone Fishing".)
Hollywoodedge, Bounce Jews Harp CRT015805 (Heard once in "Pet Peeves".)
Hollywoodedge, Bounce Jews Harp CRT015806 (Heard once in "All My Students".)
Hollywoodedge, Boxing Matc Bell Hit CRT014201 (Heard once in "Cloak and Dagger".)
Hollywoodedge, Bubble Pop CRT049201 (Heard once in "Bathroom Blues" and "Ancient Greeks".)
Hollywoodedge, Bubbles Gurgling Up PE052701 (Heard once in "Garbage Swingers".)
Hollywoodedge, Cartoon Boings 5 SS016105 (Heard once in "Pet Peeves", "Saving Private Gordy", "My Fair Lulu" and "Rockabye Abatti".)
Hollywoodedge, Cartoon Streaks 5 SS016505 (Heard once in "Strange Bedfellows".)
Hollywoodedge, Cartoon Streaks 6 SS016506 (Heard once in "Garbage Swingers".)
Hollywoodedge, Cartoon Twangs High TE021002 (Heard once in "Fairweather Friends".)
Hollywoodedge, Cartoon Twangs 1 SS016301 (Heard once in "Fairweather Friends", "Halls of Justice" and "Big Ho-Down".)
Hollywoodedge, Cat Domestic Growl Sc AT011102 (Heard once in "Enter the Angela".)
Hollywoodedge, Cat Domestic Meow Ang AT010603 (Heard once in "Fairweather Friends", "Gone Fishing", "My Fair Lulu" and "Canine to Five".)
Hollywoodedge, Cattle Cow Moo Bellow AT041501 (Heard once in "Slice of Life" and "Earhart's Heirloom".)
Hollywoodedge, Cattle Cow Moo Bellow AT041702 (Heard once in "Family Tree".)
Hollywoodedge, Chickens Clucks Farm AT084301 (Heard once in "Slice of Life", "Earhart's Heirloom", "Family Tree" and "News at Eleven".)
Hollywoodedge, Cuckoo Bird Followe CRT041202 (Pluck heard once in "Pet Peeves".)
Hollywoodedge, Decending Gong Hit CRT015808 (1st part heard once in "Pet Peeves".)
Hollywoodedge, Descend Slid Whistl CRT057908 (Heard once in "Saturday Night Gordy".)
Hollywoodedge, Dolphin Chirps Vocal PE024601/Hollywoodedge, Dolphins Chirping TE015902 (Heard once in "Gone Fishing".)
Hollywoodedge, Explosion Large Shar PE097801 (Heard once in "Bathroom Blues".)
Hollywoodedge, Fast Honk Heavy Flat CRT033805 (Honk heard once in "Pet Peeves".)
Hollywoodedge, Fast Swish CRT053905 (Heard once in "Dirty Work" and "Crazed and Confused".)
Hollywoodedge, Fast Swish CRT053906 (Heard once in "Dirty Work" and twice in "Crazed and Confused".)
Hollywoodedge, Fly Buzzes Against Wi TE016601 (Heard once in "Model Behavior".)
Hollywoodedge, Gooey Splat CRT052405 (Heard once in "Touched by an Angel-a" and "My Fair Lulu".)
Hollywoodedge, Gusts Heavy Cold Wind PE031601 (Heard once in "Rockabye Abatti" and "Snow Day".)
Hollywoodedge, Highpitch Chimes CRT015403 (Heard once in "Rat Heroes" and "Who's Sari Now?".)
Hollywoodedge, Hollowbomp Impact CRT030402 (Heard once in "Pet Peeves".)
Hollywoodedge, Home Doorbell Rings 1 PE192301 (Heard once in "Kar-Lean on Me".)
Hollywoodedge, Jews Harp Boings 3x CRT016003 (1st boing used for Nanette touching her springy hair.)
Hollywoodedge, Lion Roar Snarl Growl AT013501 (Heard once in "Rough Times Tables".)
Hollywoodedge, Long Slow Stretch CRT049402 (Heard once in "Gone Fishing".)
Hollywoodedge, Long Slow Stretch CRT049403 (Jerk part heard once in "Pet Peeves".)
Hollywoodedge, Long Tire Skid CRT055202 (Heard once in "Cut to the Chase".)
Hollywoodedge, Lowpitched SynthyW CRT017702 (Heard once in "Pet Peeves" and "Hot Bob and Chocolate", Ascending only)
Hollywoodedge, Med Ascen Gliss Gloc CRT015202 (Heard once in "Pet Peeves".)
Hollywoodedge, Med High Pitch Boing CRT016001 (2nd boing heard once in "Bathroom Blues" and "Green with Envy?".)
Hollywoodedge, Metallic Boing Ie Si CRT016706 (Heard once in "Stuck on You" and "My Fair Lulu".)
Hollywoodedge, Muted Trumpet Short CRT045103 (2nd, 3rd, and 4th blasts heard once in "Rough Times Tables".)
Hollywoodedge, Owl Great Horned Hoot AT083001 (Heard once in "Open All Night".)
Hollywoodedge, Pig Squeal Single Hig AT047501 (Heard once in "Rough Times Tables".)
Hollywoodedge, Pop With Musical Gliss CRT048401 (Heard once in "Touched by an Angel-a" and "My Fair Lulu".)
Hollywoodedge, Quick Double Bell Di CRT015001 (1st ding heard once in "Fairweather Friends" and "Cloak and Dagger".)
Hollywoodedge, Quick Short Ascendi CRT048404 (Heard once in "Gone Fishing".)
Hollywoodedge, Rapid Metallic Warb CRT041204 (Heard once in "Cloak and Dagger".)
Hollywoodedge, Rapid Scissor Snips CRT041701 (Heard once in "Halls of Justice".)
Hollywoodedge, Raspberry Fart Flap CRT050506 (Heard once in "Turtle Confessions".)
Hollywoodedge, Rooster Crow Typical AT086301 (Heard once in "News at Eleven".)
Hollywoodedge, Rope Snap Swish 3 SS011003 (Heard once in the intro.)
Hollywoodedge, Rubber Balllike Bou CRT016801 (Heard once in "Dirty Work".)
Hollywoodedge, Rubber Balllike Bou CRT016802 (Heard once in "Cloak and Dagger".)
Hollywoodedge, Screams 4 Woman Singl PE133801 (Heard once in "Cheese Under Pressure.")
Hollywoodedge, Seagulls No Surf BT022101 (Heard once in "Bathroom Blues" and "Injury to Insult".)
Hollywoodedge, Short HighpitchedS CRT020903 (Heard once in "Dirty Work".)
Hollywoodedge, Short Med Boing CRT016004 (Heard once in "Johnny Doesn't Live Here Anymore", "Rough Times Tables", "Green with Envy?", "Injury to Insult" and "The Lion, The Witch and the Weasel".)
Hollywoodedge, Short Rapid School Bell CRT014702 (Heard for Tapwater Springs Elementary School's school bell.)
Hollywoodedge, Short Rapid ShakesC CRT014402 (Heard once in "Model Behavior", "Turtle Confessions" and "My Fair Lulu".)
Hollywoodedge, Short Single Double CRT020902 (Heard once in "Pet Peeves".)
Hollywoodedge, Single Frog Croak Cl CRT013001 (Heard once in "Green with Envy?" and "Dirty Work".)
Hollywoodedge, Slide Whistle Up Dw CRT2028301 (4th slide down heard once in "No Thanksgiving".)
Hollywoodedge, Sm Dirt Rock Spill CRT052401 (Heard once in "Cut to the Chase".)
Hollywoodedge, Small Med Hi Boink CRT016002 (1st boink heard once in "Gone Fishing".)
Hollywoodedge, Solid Metallic Hit CRT031504 (Heard once in "Boo Who?")
Hollywoodedge, Splashes Small PlopL TE049201 (Heard once in "Rockabye Abatti" and "Halls of Justice".)
Hollywoodedge, Spring Stretch Thud CRT032201 (Heard once in "The Nanette Lock".)
Hollywoodedge, Springy Boingelong CRT016705 (4th boing heard once in "Rough Times Tables" and "Skipping Lessons".)
Hollywoodedge, Sustain Keyboard To CRT048704 (Heard once in "Touched by an Angel-a".)
Hollywoodedge, Synthy Low Pit Boing CRT016105 (Heard once in "Pet Peeves" and "The Nanette Lock".)
Hollywoodedge, Thin Metallic Pot Or CRT031201 (Heard once in "Rough Times Tables".)
Hollywoodedge, Thin Metallic Pot Or CRT031203 (Heard once in "Fairweather Friends" and "My Fair Lulu".)
Hollywoodedge, Thin Process Bell CRT015601 (Heard once in "Turtle Confessions".)
Hollywoodedge, Various Horn Talk CRT048504 (Horn part heard once in "Pet Peeves".)
Hollywoodedge, Various Horns Talk CRT048501 (Boing part heard once in "Fairweather Friends" and "Turtle Confessions".)
Hollywoodedge, Wet Splact Juicy CRT052403 (Heard once in "Pet Peeves".)
Hollywoodedge, Wet Splats Various CRT052101 (Heard once in "Ancient Greeks".)
Hollywoodedge, Wet Splats Various CRT052302 (Heard once in "Mapperson's Daughter".)
Hollywoodedge, Wet Splats Various CRT052303 (Heard once in "My Fair Lulu" and "The Crossing".)
Hollywoodedge, Wubble Wobble Spring PE940704 (Heard once in "Pet Peeves", "Injury to Insult" and "Snow Day".)
Sound Ideas, BELL, FIGHT - ONE RING, BOXING, SPORTS 01 (Heard once in "Cloak and Dagger".)
Sound Ideas, BOINK, CARTOON - HOYT'S BOINK (Heard once in "Mapperson's Daughter".)
Sound Ideas, CAMERA - 35 MM SLR WITH AUTO WINDER: SINGLE SHOT (Heard multiple times in "Puppy Love" and heard once in "Cloak and Dagger".)
Sound Ideas, CARTOON, ACCENT - ASCENDING ZIP GLISS 01 (Heard once in "The Nanette Lock".)
Sound Ideas, CARTOON, BELL - SMALL BELL CHIMES, GLISS UP, MUSIC, PERCUSSION (Heard once in "Fairweather Friends".)
Sound Ideas, CARTOON, BOING - JEW'S HARP BOING, SHORT 02 (Heard once in "Halls of Justice" in ascending pitches.)
Sound Ideas, CARTOON, BOING - SPACE BOING, HIGH (Heard once in "Mapperson's Daughter" and "Crazed and Confused".)
Sound Ideas, CARTOON, BOING - SPACE BOING, MEDIUM 02 (Heard once in "Mapperson's Daughter".)
Sound Ideas, CARTOON, BOING - STRING PLUCK (Heard once in "Ice Breakers".)
Sound Ideas, CARTOON, GONG - SHORT HIT WITH SMALL GONG, MUSIC, PERCUSSION, CRASH (Heard once in "Who's Sari Now?" and "The Nanette Lock".)
Sound Ideas, CARTOON, TWANG - RICOCHET TWANG 01 (Heard once in "Hot Bob and Chocolate".)
Sound Ideas, CARTOON, WARBLE - WARBLE SHEET (Heard once in "All My Students".)
Sound Ideas, CARTOON, WHISTLE - FALL WHISTLE, MEDIUM 01 (Heard once in "Crazed and Confused".)
Sound Ideas, CARTOON, WHISTLE - SIREN WHISTLE (Heard once in "Pranks for the Memories".)
Sound Ideas, CARTOON, WHISTLE - ZING WHISTLE, MEDIUM 04 (Heard once in "Halls of Justice".)
Sound Ideas, CARTOON, ZIP - MEDIUM 05 (Heard once in "Hot Bob and Chocolate".)
Sound Ideas, CARTOON, ZIP - MEDIUM 06 (Heard once in "Johnny Doesn't Live Here Anymore".)
Sound Ideas, CARTOON, ZIP - SHORT 02 (Heard once in "Model Behavior", "Hot Bob and Chocolate" and "Dirty Work".)
Sound Ideas, CARTOON, ZIP - SHORT 04 (Heard once in "Hot Bob and Chocolate", "100-Yard Lash", "Johnny Doesn't Live Here Anymore" and "Rockabye Abatti".)
Sound Ideas, CASH REGISTER - ANTIQUE: SINGLE KEY WITH BELL, FAST (Heard once in "Turtle Confessions".)
Sound Ideas, DOG, MIXED BREED - LARGE DOG, WHINING, ANIMAL 01 (Used for King.)
Sound Ideas, DOOR, WOOD - OPEN 04 (Heard once in "Rough Times Tables".)
Sound Ideas, ELECTRICITY, SPARK - HIGH VOLTAGE SPARK, ELECTRICAL 12 (Heard once in "Who's Sari Now?".)
Sound Ideas, ELECTRONIC - MAGICAL ZIP 01 (Heard once in "Turtle Confessions".)
Sound Ideas, FLEXITONE - ACCENT, UP SCALE, MUSIC, PERCUSSION, COMEDY (Heard once in "Hot Bob and Chocolate".)
Sound Ideas, HIT, CARTOON - HOLLOW HEAD KONK AND ZIP (Heard once in "Pet Peeves".)
Sound Ideas, HUMAN, BABY - CRYING, WHINING (Heard often for Baby Lulu crying in "Cloak and Dagger" and "The Dog Ate It".)
Sound Ideas, MAGIC - MAGIC BURST (Heard once in "Fairweather Friends".)
Sound Ideas, PLUCK, CARTOON - VAROOP (Heard once in "Stuck on You" and "Skipping Lessons".)
Sound Ideas, SQUEAK, METAL - MOVE SIDE TO SIDE (Heard once in "Pet Peeves", "Model Behavior" and "Fairweather Friends".)
Sound Ideas, SQUEAK, METAL - SLIDING SLOWLY (Heard once in "Pet Peeves".)
Sound Ideas, SQUISH, CARTOON - LITTLE SQUISH (Heard once in "My Fair Lulu".)
Sound Ideas, SQUISH, SLIME - VARIOUS SLIME SQUISHES AND OOZES, HORROR (Heard once in "Model Behavior" and "Ancient Greeks".)
Sound Ideas, TELEMETRY - COMPUTER TELEMETRY: FUNCTION BEEP, SCI FI, ELECTRONIC 09 (Heard twice in "Cut to the Chase".)
Sound Ideas, THUNDER - THUNDER CLAP AND RUMBLE, WEATHER 01 (Series 6000) (Heard once in "Pet Peeves".)
Image Gallery
Audio Samples