She-Hulk Trailer Dropped - The Loop
Play Sound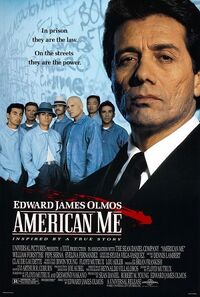 American Me is a 1992 American crime drama film produced and directed by Edward James Olmos, his first film as a director, and written by Floyd Mutrux and Desmond Nakano. Olmos also stars as the film's protagonist, Montoya Santana, loosely based on mob boss Rodolfo Cadena. Executive producers included record producer Lou Adler, screenwriter Mutrux, and Irwin Young. It depicts a fictionalized account of the founding and rise to power of the Mexican Mafia in the California prison system from the 1950s into the 1980s.
Storyline
The film depicts 30 years of Chicano gang life in Los Angeles. It focuses on Montoya Santana, a teen who forms a gang along with his friends J.D. and Mundo. They soon find themselves committing crimes and are arrested.
In juvenile hall, Santana murders a fellow inmate, who had raped him, and as a result has his sentence extended into Folsom State Prison after he turns 18.
A few years later, a now older Santana has becomes the leader of a powerful prison gang, La Eme. Upon his release he tries to relate his life experiences to the society that has changed so much since he left. La Eme has become a feared criminal organization beyond Folsom, selling drugs and committing murder. Santana begins a romantic relationship with a woman named Julie, but she becomes repulsed by his violent tendencies and La Eme's negative influence on their community.
Santana starts to see the error of his ways, but before he can take action he is sent back to Folsom for drug possession. There, he tells J.D., that he is no longer interested in leading La Eme. However, following a precedent set by Santana himself earlier in the film, his men, including Mundo, murder him to show the other prison gangs that despite having no leader La Eme is not weak, and will not tolerate anyone leaving the gang. He is fatally stabbed and thrown off the balcony to his death.
Julie receives a letter from Santana thanking her for opening his eyes and his necklace of St. Dismas. Julie gives the necklace to Santana's teen brother Paulito, who then inducts a young boy into La Eme by having them commit a drive-by shooting.
Sound Effects Used
Image Gallery
Audio Samples