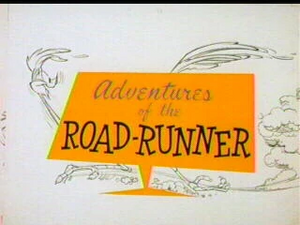 Adventures of the Road-Runner is an animated featurette, directed by Chuck Jones and co-directed by Maurice Noble and Tom Ray. It was the intended pilot for a TV series starring Wile E. Coyote and the Road Runner, but was never picked up. As a result, it was split into three further shorts. The first one was "To Beep or Not to Beep" (1963). The other two were assembled by DePatie-Freleng Enterprises in 1965 after they took over the Looney Tunes series. The split-up shorts were titled "Roadrunner a Go-Go" and "Zip Zip Hooray!". Clips from "Zip 'n Snort" (1961), "Gee Whiz-z-z-z-z-z-z" (1956) and "From A to Z-Z-Z-Z...." (1954) were used in this special.
Also See
Sound Effects Used
Image Gallery
Adventures of the Road-Runner (1962)/Image Gallery
Audio Samples
Community content is available under
CC-BY-SA
unless otherwise noted.