Doctor Strange in The Multiverse o Madness - The Loop
Play Sound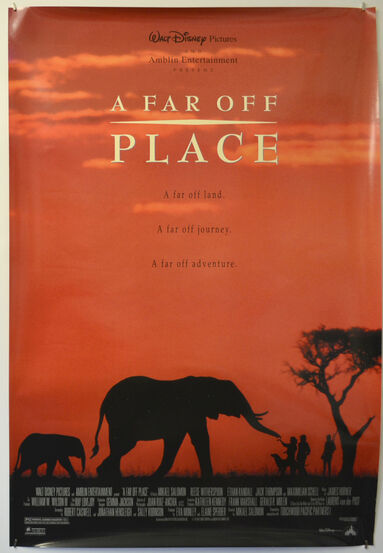 A Far Off Place (aka Far Off Place and Kalahari) is a 1993 American adventure drama film based on Laurens van der Post's works A Far Off Place (1974) and its prequel, A Story Like the Wind (1972). It stars Reese Witherspoon, Ethan Randall, Jack Thompson and Maximilian Schell. The plot concerns three young teenagers who must cross the Kalahari Desert to safety when their parents are murdered by a poacher.
A Far Off Place was filmed in Namibia and Zimbabwe from May to September of 1992.
Storyline
When a gang of African poachers raid her family's farm, young Nonni, visiting American teenager Harry Winslow and a local bushman guide must escape into the Kalahari desert and reach the nearest town.
Sound Effects Used
SoundDogs, African Ambience; Lots Of Birds @ Different Depths, Insects. Strange Bird Call @42, 53. Good Jungle / Forest - Far Off Place -

SoundDogs, African Ambience; Lots Of Distant Birds Singing & Insects, All Distant, Could Be Forest / Light Jungle. Watch Drop Out @23, 20. **Ctbkk-21** - Far Off Place -

SoundDogs, Animals - Dog; Barks, Snarls & Growls X1000-1 - Far Off Place 01

SoundDogs, Animals - Dog; Barks, Snarls & Growls X1000-2 - Far Off Place 02

SoundDogs, Animals - Dog; Good Muffled Barks Once In Chair X1000-6 - Far Off Place

SoundDogs, Animals - Dog; Good Muffled, & Good Clean Barks. X1000-8 - Far Off Place

SoundDogs, Animals - Dog; Some Muffled Barks, Whines. X1000-4 / 5 - Far Off Place

SoundDogs, Animals - Dog; Whines And Barks, 1 Medium Dist Bark. X1000-9 - Far Off Place

SoundDogs, Animals - Dog; Whines, 1 / 2 Bark, Clean Barks, Good Muffled, & Whiney Barks. **X1000-7** - Far Off Place

SoundDogs, Animals - Dog; Yoddle Barks, Whines. X1000-3 - Far Off Place

SoundDogs, Animals - Hippo; 6-8 Hippos In River 30 Meters Away. Blowing Snds, Birds & Water In Background - Elephant Far Off Place

SoundDogs, Animals - Lion Eating. A Zebra Carcass Close Up To Be Exact! Pretty Graphic ( But Not Too Wet ) , Birds In Background. Good Growl - Dog Far Off Place

SoundDogs, Animals - Monkey; Vervet Monkey Calls Medium Dist, Lite Birds & Insects Background - Far Off Place Jungle

SoundDogs, Animals - Water Buffalo; Snorts Grunts Close Up, Birds In Background - Far Off Place

SoundDogs, Animals - Water Buffalo; Snorts Grunts Close Up, Birds In Background. Sim To Last - Far Off Place

SoundDogs, Animals - Zebra; Vocals Medium Close Up, Some Movement In Background - Far Off Place Small Farm Ambience

SoundDogs, Backgrounds - African Ambience; Distant Birds & Insects With Close Up Bird Singing, Could Be Forest / Light Jungle - Far Off Place 01

SoundDogs, Backgrounds - African Ambience; Distant Birds & Insects With Close Up Bird Singing, Could Be Forest / Light Jungle - Far Off Place 02

SoundDogs, Backgrounds - African Ambience; Distant Birds & Insects With Occasional Close Up Exotic Bird Squawk, Could Be Forest / Light Jungle - Far Off Place

SoundDogs, Backgrounds - African Ambience; Lots Of Birds Singing, Some Insects, All Medium Distance To Distant, Could Be Forest / Light Jungle - Far Off Place

SoundDogs, Backgrounds - African Ambience; Lots Of Birds Singing, Some Insects, All Medium Distance To Distant, Could Be Forest / Light Jungle. **Ctbkk-22** - Far Off Place

SoundDogs, Backgrounds - African Ambience; Lots Of Birds Singing, Some Insects, Exotic Close Up Calls, Interesting Bird. Watch Vocals At Head, Wind At Tail - Far Off Place Forest Jungle

SoundDogs, Backgrounds - African Ambience; Lots Of Birds Singing, Some Insects, Strange Occasional Close Up Squawk, Medium Distant Response Call. Could Be Forest Or Light Jungle. **Ctbkk-23** - Far Off Place

SoundDogs, Backgrounds - African Ambience; Lots Of Distant Birds & Insects, Really Cool Frogs Croaking & Popping Sound. **Ctbkk-24****Ctbkk-25** - Far Off Place Forest Jungle

SoundDogs, Backgrounds - African Ambience; Monkeys, Birds, Insects, Frogs, & Anything Else You Can Think Of. Pretty Busy - Far Off Place Forest Jungle Background

SoundDogs, Backgrounds - African Ambience; Mostly Birds, Some Insects Buzzing, Some Strange Calls - Far Off Place Jungle

SoundDogs, Birds - African Fish Eagle; Loud Call Close Up, River In Background - Bird Exotic Far Off Place

SoundDogs, Birds - Vultures; Approx 30 Vultures Surround Wildebeast Carcus, Not All Squawking, Large Wing Flaps, - Far Off Place

SoundDogs, Birds - Vultures; Approximately 30 Vultures Surround Wildebeest Carcass, Not All Squawking, Large Wing Flaps, Insects Buzzing. Nice Dead Animal Scene - African Ambience Far Off Place Vultures

SoundDogs, Birds - Whi Whi Whu; Exotic Bird Call Close Up, Other Birds In Background - Far Off Place Whipper Whil 01

SoundDogs, Birds - Whi Whi Whu; Exotic Bird Call Close Up, Other Birds In Background - Far Off Place Whipper Whil 02

SoundDogs, Miscellaneous - Wildebeest; Grunts With Zebra Reaction-Bark / Bray Short - Bear Far Off Place
Image Gallery
Audio Samples
External Links