Jurassic World: Dominion Dominates Fandom Wikis - The Loop
Play Sound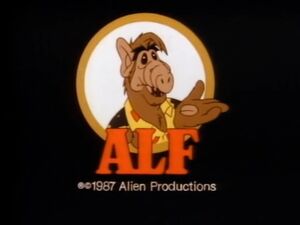 ALF: The Animated Series (also known as ALF on Melmac) is a 30-minute Saturday morning animated series that aired on NBC for 26 episodes from September 26, 1987, to January 7, 1989.
ALF: The Animated Series was a prequel and animated spinoff of the prime time series ALF, which had also aired on NBC from 1986 to 1990. Paul Fusco, the creator and puppeteer of ALF in the live-action series, was the only cast member to reprise his role in voice form; none of the human characters from the prime time ALF appeared in the animated series, due to the shows premise revolving around ALF (Gordon Shumway) traveling to various places on his home-world of Melmac. ALF Tales was a spin-off from the series that also ran on NBC on Saturdays from September, 1988 to December, 1989. The two ALF animated series ran concurrently during the 1988–89 season as the ALF & ALF Tales Hour.
The Post Production Sound Services was provided by Animation City Editorial Services, Inc., Zound FX was involved and also serves as ("Sound Effects by Zound FX"), as they used anime sound effects. Richard Bruce Elliott serves as an supervisor sound editor. Jim Hodson serves as an re-recording mixer, and also an re-recording engineer as well. Richard S. Gannon, Michelle Rochester, Robert T. Gillis, Eivida Abella, and Gregory K. Bowron both serves as an dialogue editor. Michael J. Cowan and Greg LaPlante both serves as an sound transfer.
Synopsis
This show is a prequel to the live action sitcom ALF, depicting ALF's life back on his home planet of Melmac before it exploded. Since the original character's name of "ALF" was an acronym for "Alien Life Form", it is never used in the animated series except for its title. The main character is Gordon Shumway who is normally referred to as "Gordon". In each episode the puppet ALF from the sitcom appears at the introduction and conclusion of the episode, talking to the television viewers; either setting up the episode as if writing his memoirs "Melmac Memories" and commenting on it afterwards, reading fan mail or describing what his life was like on Melmac. The visual look of the series was created by the lead character designer Fil Barlow.
The format of the series has the standard setup of a situational comedy, or sitcom, as its premise, in the style of The Flintstones or The Jetsons and it predates the non-Tracey Ullman Show episodes of The Simpsons, which has a similar family arrangement of two parents, three children and a dog; The Simpsons Tracey Ullman Show shorts, which debuted in April 1987, featured two parents and three children, but, unlike ALF: The Animated Series, would not feature any sort of pet as part of the family arrangement. Much of the humor arises from the characters taking part in ordinary everyday activities set in an alien and surrealistic environment.
Gordon/ALF from this series is one of the cartoon characters who was featured in Cartoon All-Stars to the Rescue.
Storyline
Gordon Shumway is a fairly normal teenager living in suburban East Velcro with his parents Bob and Flo, brother Curtis, young sister Augie and their dog Neep on the planet Melmac. He spends time hanging out with his friends Rick and Skip who call him "Gordo", and he has a girlfriend named Rhonda. Sometimes the quartet would report for mandatory duty with the Melmacian Orbit Guard. The show includes an array of quirky supporting characters, which include the fortune-smeller Madame Pokipsi and the villain Larson Petty with his offsider Eggbert.
Also See
TV Show Intro
Sound Effects Used
This classic 80s cartoon animated version of ALF, which is based on the live action sitcom TV series like it's titular character name said, uses Hanna-Barbera (heavily), along with Warner Bros., Cartoon Trax Volume 1, Rocky and Bullwinkle and Friends, Turner Entertainment Co., 20th Century Fox, Universal Studios, Series 1000, The Premiere Edition Volume 9, and a little amount of Skywalker Sound, BBC, and Series 4000 sound effects.
Image Gallery
Audio Samples