Wiki Targeted (Entertainment)
Play Sound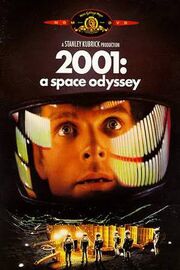 2001: A Space Odyssey is a 1968 epic science fiction film produced and directed by Stanley Kubrick. The screenplay was written by Kubrick and Arthur C. Clarke, and was inspired by Clarke's short story "The Sentinel" and other short stories by Clarke. A novelisation of the film released after the film's premiere was in part written concurrently with the screenplay. The film, which follows a voyage to Jupiter with the sentient computer HAL after the discovery of a featureless alien monolith affecting human evolution, deals with themes of existentialism, human evolution, technology, artificial intelligence, and the possibility of extraterrestrial life.
The film is noted for its scientifically accurate depiction of space flight, pioneering special effects, and ambiguous imagery. Sound and dialogue are used sparingly and often in place of traditional cinematic and narrative techniques. The soundtrack incorporates a number of pieces of classical music, among them Also sprach Zarathustra by Richard Strauss, "The Blue Danube" by Johann Strauss II, and works by Aram Khachaturian and György Ligeti.
The film received diverse critical responses ranging from those who saw it as darkly apocalyptic in tone to those who saw it as an optimistic reappraisal of the hopes of humanity. The film garnered a cult following and became the highest-grossing North American film of 1968. It was nominated for four Academy Awards; Kubrick won for his direction of the visual effects.
2001: A Space Odyssey is widely regarded as one of the greatest and most influential films ever made. In 1991, it was deemed "culturally, historically, or aesthetically significant" by the United States Library of Congress and selected for preservation in the National Film Registry. In 2010, it was named the greatest film of all time by The Moving Arts Film Journal.
Storyline
Sound Effects Used
Image Gallery
Audio Samples
External Links
Community content is available under
CC-BY-SA
unless otherwise noted.