We're Getting Mutants in the MCU - The Loop
Play Sound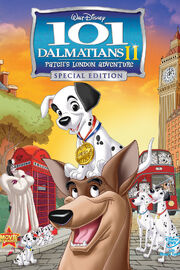 101 Dalmatians II: Patch's London Adventure is a 2003 American direct-to-video animated adventure comedy-drama film, written and directed by Jim Kammerud and Brian Smith, released by Walt Disney Home Entertainment on January 21, 2003,
Storyline
Being one of 101 takes its toll on Patch, who doesn't feel unique. When he's accidentally left behind on moving day, he meets his idol, Thunderbolt, who enlists him on a publicity campaign. Elsewhere in London, Cruella de Vil has returned, but she is under probation and a restraining order for her past behavior. No longer allowed to maintain her previous lifestyle, she attempts to soothe her fixation on spots with the help of Lars, a German artist. In order to inspire him, she restarts her hunt for the dalmatians, using a newspaper picture of Patch to find their new address.
Patch's family finally becomes aware that he is missing and go back to London to find him. Cruella bails her former henchmen, Jasper and Horace, out of prison. She sends them in a stolen dog food truck to steal the remaining puppies. They succeed after dealing with Nanny, and they take them to Lars. When Cruella requests she be made a masterpiece from their fur, Lars refuses, not wanting them to be harmed. Angered, she has him bound and gagged and returns to her original plan of making a dalmatian fur coat.
Then the puppies steal a double-decker bus but Cruella, Jasper, and Horace discover the escape and pursue them in their stolen truck, a chase ensues through the streets of London, crashing through the filming of Lil' Lightning's new show in the process, and having him on the driving window. Cruella, Jasper, and Horace finally corner the dogs in an alley. Patch tries to hold them off while the others escape, but they are undaunted. Luckily, Thunderbolt arrives, having been driven to the scene by Lars, and fakes a heart attack, briefly gaining Lil' Lightning's sympathy and causing Cruella, in her distraction, to knock Jasper and Horace and incapacitate herself while Patch retreats back to the bus. He puts it in reverse, sending Cruella, Jasper, Horace, and Lil' Lightning scrambling into the River Thames, along with their stolen truck. As he and Thunderbolt stand triumphantly, Patch finally brings out a bark similar to Thunderbolt's.
Also See
Movie Trailer
Sound Effects Used
Image Gallery
Audio Samples